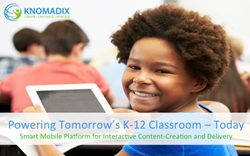 With Knomadix, teachers and curriculum specialists now have the freedom and power to author personalized, interactive, magical content and learning activities in a easy-to-use DIY environment.
McKinney, TX (PRWEB) May 07, 2014
Knomadix, a McKinney-based mobile learning software platform startup, is teaming up with Samsung Mobile to pilot a transformative mobile learning solution at Richardson ISD located in the Dallas-Fort Worth Telecom Corridor. This pilot will feature the Knomadix mobile learning platform for customized learning aids and interactive classroom content on Samsung Galaxy® Note 10.1 tablets. Knomadix, a member of the Samsung Solutions Exchange™, will deliver an innovative mobile content solution that maximizes the usefulness of tablets in the classroom, resulting in improved student engagement and outcomes.
The pilot, featured in both elementary and secondary classroom settings, empowers teachers to create smarter, digital versions of content previously created using white boards, notepads, worksheets, maps, diagrams, geometry toolbox manipulatives, flashcards, and other physical learning tools. This interactive content will be integrated with assessments and data for personalized and individual instruction.
The pilot fits within the district's technology plan to bring innovative instructional tools into classrooms. "Our goal in Vision 2020 is increased, individualized student performance and engagement. Both student engagement and performance increase when we combine enhanced technology and RISD's quality teaching," explains Dr. Kay Waggoner, superintendent. "We are pleased to be a part of this exciting pilot as we lead the state and nation in advancements that benefit students."
Millions of mobile interactive devices including tablets and smartphones have recently made their way to K-12 classrooms. These devices have the potential to transform and forever change how teachers teach and how students learn. However, schools are still faced with the challenge of delivering meaningful, personalized, interactive content that have a profound impact on everyday classroom learning. Knomadix has created a virtual classroom solution called Knomadix Interactive Cloud that provides a differentiated solution to solve this complex problem.
Knomadix CEO and Founder, Ramesh Balan, sees the growing mobile market in education continuing to change and evolve with teachers needing the ability to customize content just as they have always done in the classroom. "With Knomadix, teachers and curriculum specialists now have the freedom and power to author personalized, interactive, magical content and learning activities in a easy to use, Do-it-Yourself environment. Knomadix helps transform commercial mobile devices into powerful teaching tools. We are pleased to be part of the Samsung Solutions Exchange program, and are excited to team with Samsung Mobile and Richardson ISD as we introduce this innovative learning solution aimed at improving student achievement levels."
"We look forward to working with Knomadix to provide schools with an innovative mobile learning solution on Samsung Mobile tablets," said Nick Rea, Director, Business Innovations Group at Samsung Mobile. "With the addition of this distinctive offering to the Samsung Solutions Exchange, we can more effectively deliver on our commitment to providing best-in-class solutions for K-12 education to help schools realize the benefits of mobility in the classroom."
The Samsung Solutions Exchange delivers a range of third party offerings for a variety of industries that increase productivity and ROI, including but not limited to education applications, mobile device management solutions, cloud services, collaboration tools and security solutions – all designed to make it easier for organizations to succeed in the new era of mobility.
Samsung, Galaxy, Galaxy Tab and Samsung Solutions Exchange are all trademarks of Samsung Electronics Co., Ltd. Other company names, product names and marks mentioned herein are the property of their respective owners and may be trademarks or registered trademarks.
About Knomadix
Knomadix was founded in 2013 to build an interactive mobile content platform that transforms how educators teach and how students learn in K-12 schools. With its fresh approach to creating and delivering customized digital content, Knomadix is leading the emerging mobile education market with learning aids and classroom tools for teachers, curriculum specialists, content developers, and publishers.
Knomadix goes beyond digital textbooks to make the mobile learning environment a customizable teaching tool. This accelerates the adoption of mobile devices, maximizes their usefulness in classrooms, and increases teacher's ability to personalize content for individual students. Currently, Knomadix is working with leading mobile device manufacturers and innovative school districts to validate its flagship mobile learning platform in K-12 classrooms across the country.
About Richardson ISD
Richardson ISD, located in the Dallas-Fort Worth Telecom Corridor, has a rich history of innovation that benefits its diverse student population. With more than 38,000 students, RISD consistently perform above both state and national levels and prepares students for their futures.