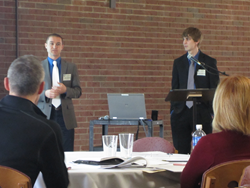 'We presented the idea of bringing a local brewery to the city of Anderson,' said Ashley Ledford on behalf of business partner Eric Baker. 'We are very interested in the craft brew industry, both on the business side and the brewing side.'
Upland, Indiana (PRWEB) May 06, 2014
Returning competitor and Taylor University graduate, Adam Hoeksema, joined forces with brother, Brandon Hoeksema, to claim first place in the ninth annual Taylor Business Plan Competition last Friday. The winning duo progressed to the finals where they impressed a panel of judges with a comprehensive business plan for ProjectionHub. CommSense placed second in the competition; CommSense's three-member team consisted of two Purdue PhD students, Wesley Allen and Andrew Kovacs, and MBA candidate, Christopher Ochynski. Anderson University MBA candidate, Ashley Ledford, and Anderson graduate, Eric Baker, took third place with The Anderson Brewery.
"It helps business create financial projections using a web interface and then it uses all the input and puts it in a fancy little Excel template," said sophomore Brandon of ProjectionHub.
Initially, the idea for ProjectionHub was prompted from Adam's experience working in economic development. "We require a lot of our loan applicants to create projections for their business, and the common way to do this is with Excel templates," he said. "It's just not a good way to do it, so we created a web application to allow you to do this online and have made a more powerful and simpler alternative to your Excel template."
Adam participated in the business plan competition when he was a freshman at Taylor University, but did not place so competition rules allowed him to re-enter. Adam has also competed in the I-69 Collegiate Innovation Challenge, hosted by the Grant County Economic Growth Council. In February, Adam served as a judge for the eighth annual I-69 Challenge.
Larry Belcher, director of undergraduate business program at Taylor, said the competition is designed to promote business in Indiana. The Taylor Business Plan Competition targets businesses, existing or potential, operating within the Taylor University campus area of influence encompassing Grant, Blackford, Delaware, surrounding counties, and the entire state of Indiana.
"It's an annual competition and it actually started earlier in the fall. We made an announcement for proposals and they sent an executive summary in. Those were reviewed and then cut down to a semifinalist group. Those were then asked to submit a full plan and from those we chose three finalists to actually do a presentation," Dr. Belcher said.
Belcher said it presents an opportunity for people, primarily from Indiana, to have judges with experience in start-up businesses critique their plans.
"We are presenting the idea of bringing a local brewery to the city of Anderson," said Ashley Ledford. "We both are very interested in the craft brew industry, both on the business side of things and the brewing side of things. It's something that the city of Anderson is really pushing for so it's an attractive business to get into right now."
While the brewery placed third, the team noted the valuable insight gained from the panel of judges. The competition offers tangible rewards for 1st, 2nd, and 3rd place amounting to $7,000, $3,000 and $2,000 respectively. In addition to cash prizes, the winning entrepreneurs are offered the following forgivable loans from the Grant County Economic Growth Council for the purpose of building upon their investment in Grant County:

First Place: $15,000.00 in forgivable loans
Second Place: $10,000.00 in forgivable loans
Third Place: $7,000.00 in forgivable loans
The long-term objective of the competition is to spur entrepreneurial growth that will generate significant job opportunities for the residents of Indiana. Because the purpose of the competition fits the Growth Council's mission, Executive Director, Tim Eckerle, says, "By offering forgivable loans to winning investors who choose Grant County as their business location, the Growth Council looks attract and retain startups in Grant County. We continue to support this professional competition which imbues the spirit of entrepreneurship within the community."
For more information regarding sponsorship, support opportunities and entry, email info(at)grantcounty(dot)com.