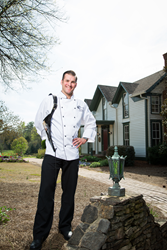 Adairsville, Georgia (PRWEB) May 06, 2014
Adam Hayes has been appointed as the new executive chef at Barnsley Resort (http://www.barnsleyresort.com), a luxury boutique resort located just north of Atlanta. With more than 15 years of experience in kitchen, banquet and à la carte operations for leading restaurants in North Carolina, he is now responsible for all aspects of the culinary experience at Barnsley Resort. A self-described "relentless innovator," Chef Hayes brings a passion for incorporating fresh, locally sourced produce, meat, poultry and fish into his menus. He takes pride in working with gardens, farms, ranches and fisheries guided by the principles of sustainability. In his new position at Barnsley Resort, Chef Hayes hopes to incorporate the culinary trends of curing, brining, fermenting andpreserving into his cuisine, also taking advantage of what is in season in the resort's own vegetable and herb gardens.
"It is an honor to welcome Chef Hayes to Barnsley Resort," said General Manager Michael Gordon. "His dedication to culinary excellence and commitment to Southern hospitality will enhance the guest experience and our reputation for exceptional dining.We also look forward to introducing Chef Hayes at the Atlanta Food & Wine Festival May 30-June 1."
A North Carolina native, Chef Hayes brings Southern tradition and creativity to the kitchens at Barnsley Resort. In this position, he will lead the culinary team of 30 chefs and create menus for the resort's diverse dining options, including the signature Rice House restaurant; The Woodlands Grill, where guests can enjoy casual dining overlooking the golf course, and the outdoor Beer Garden. He is also responsible for satisfying all culinary needs for corporate events and special occasions such as weddings. A father of two young children, Chef Hayes is committed to incorporating kids' culinary adventures into the resort's offerings as well as partnering with local schools to teach students about growing their own food and healthy eating habits.
Prior to joining Barnsley Resort, Chef Hayes served as the executive chef of the Red Stag Grill at The Grand Bohemian Hotel in Asheville, North Carolina. In 2013, Chef Hayes was invited to the James Beard House in New York City, where he utilized 100 percent North Carolina-grown ingredients in his debut at the home of the esteemed culinary foundation. Additionally, Chef Hayes was the winner of the competition dining series "Fire on the Rock," Final Fire in 2013, and "Best Dish of North Carolina" in 2012. He has also won the North Carolina Department of Agriculture's "Dig into Local Challenge" in 2013, where more than 30 North Carolina restaurants took on the challenge to showcase as many local, fresh menu options as possible.
In 2007, Chef Hayes assisted with the opening of the Proximity Hotel, Print Works Bistro in Greensboro, North Carolina as chef de cuisine. During his career, he has also assisted with opening a number of restaurants including Arpa, Tapas and Wine Bar and Zink, American Bistro, where he served as chef de cuisine. After completing the culinary program at Guilford Technical Community College in 2002, Chef Hayes began his culinary career as a line cook at Mimosa in Charlotte, North Carolina and was quickly promoted to sous chef.
For additional information about Barnsley Resort, please visit http://www.barnsleyresort.com or call 1-877-773-2447.
About Barnsley Resort:
In the foothills of the Blue Ridge Mountains, just 60 miles north of Atlanta, Barnsley Resort welcomes guests into a storybook romantic setting of incomparable service. Encompassing 3,300 acres, the historic grounds offer a unique getaway experience. Originally built as an opulent estate in the 19th century, the grounds have been transformed into a world-class resort. All accommodations are in private rooms, suites or cottages, all luxuriously appointed with a mix of old-world charm and modern convenience. Whether looking for a relaxing weekend, strategic meeting or an elegant wedding, guests will discover a retreat of privacy and perfection. Amenities include gourmet dining, immaculate gardens, historic ruins, a European-style spa, and exciting recreational choices such as world-class golf, wing-shooting and hunting at SpringBank Plantation – Georgia's most unique hunting preserve, and horseback riding along scenic trails. Barnsley Resort is also an inaugural member of the Southern Living Hotel Collection, a prestigious group of independent hotels, resorts and inns spanning 18 Southern states. http://www.barnsleyresort.com.