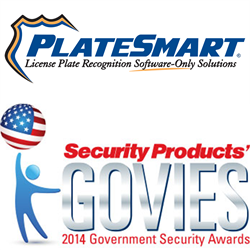 This success shows that our technology is clearly recognized as an invaluable tool for the government sector to manage safety concerns at their facilities.
Oldsmar, Florida (PRWEB) May 06, 2014
PlateSmart Technologies today announced that ARES, the Company's software-only video analytics platform based on License Plate Recognition (LPR), is the recipient of a 2014 Govies Award in the category of Video Analytics. The award, highly coveted in the global security industry, was presented to PlateSmart by Security Products Magazine, a publication of 1105 Media.
ARES, which stands for Analytic Recognition Enterprise Solutions, is the flagship product of PlateSmart's line of software-only LPR solutions. The software combines industry-leading LPR accuracy with a complete state-of-the-art analytics and reporting backbone for a true end-to-end intelligent video security system. Fully scalable, ARES can connect with any number of cameras the user desires, effectively turning any or all cameras within that system into LPR cameras. ARES is compatible with a wide range of IP surveillance cameras, including inexpensive off-the-shelf units, making it the most cost-effective LPR analytics solution available. In addition, ARES can integrate with existing Video Management Systems (VMS) such as those manufactured by Exacq Technologies and OnSSI/C2P. The product is currently in use by hospitals, ports, casinos, university campuses, agencies of the federal government, and more.
In 2013, ARES was the recipient of Frost & Sullivan's Award for Technology Innovation Leadership in LPR. In January of this year, the software secured PlateSmart an invitation to the prestigious FBI Analytics Industry Day.
As a Govies Award winner, literature about ARES will be available at Security Products' Govies booth (#2529) at this year's GovSec expo, which will be held at the Walter E. Washington Convention Center in Washington, DC May 13th-14th. PlateSmart will also be demonstrating ARES and its other products at its own GovSec booth, #2816.
PlateSmart founder and CEO John Chigos said, "We view this award as a further recognition of the power of our LPR and analytic technologies, and of our leadership position in the industry. This success shows that our technology is clearly recognized as an invaluable tool for the government sector to manage safety concerns at their facilities."
More information about the GovSec Expo can be found at http://www.govsecinfo.com.
About PlateSmart
PlateSmart Technologies, Inc., has developed the world's first software-only License Plate Recognition (LPR) and video analytic solutions, which are compatible with both state-of-the-art and legacy cameras. PlateSmart offers both mobile and fixed LPR and analytic solutions, which are designed either to function as stand-alone tools or to integrate with third-party software and hardware. ARES, PlateSmart's enterprise LPR-based analytic solution, provides real-time actionable intelligence with industry-leading accuracies and state jurisdiction recognition for complete situational awareness. PlateSmart's solutions have been recognized as the most innovative and forward-thinking LPR technology by Frost and Sullivan. http://www.platesmart.com.