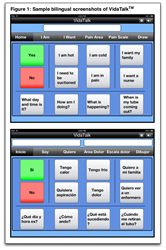 ...we were determined to only bring a solution to market that was shown feasible and acceptable to critically ill patients...
(PRWEB) May 06, 2014
Vidatak LLC, Los Angeles, CA, and Acuity Medical, Inc, Annapolis, MD, today announced the release of Vidatalk™, an iPad application for nonvocal patients. The National Institutes of Health, National Institute of Nursing Research, funded VidaTalk's research and product development. The multilingual patient communication iPad application is available via the iTunes store. Acuity Medical, Inc. will be the exclusive distributor of the professional application to be released May 2014.
"The market was ready for this application over a year ago," stated Vidatak President Lance Patak, M.D., MBA, "however, we were determined to only bring a solution to market that was shown feasible and acceptable to critically ill patients who had experienced mechanical ventilation. Healthcare is a space whereby vendors hold the highest level of accountability and ethical responsibility to serving their end users with real solutions if they intend to consume healthcare dollars, especially with something as important as empowering a patient to communicate, when otherwise it would not be possible."
Describing the iterative and meticulous end user assessment and design approach, Dr. Traughber, Director of Research and Product Development added, "The process involved more than just getting the content and font size right. Our end users are often critically ill and cannot spend a lot of energy trying to find what it is they are trying to communicate. We leveraged the expertise of Menlo Innovations' High Tech Anthropologists® who performed a series of user design observations throughout the iterative design process which guided our development team." Patak also expressed, "We are deeply grateful to the exceptional research team at The Ohio State University led by Dr. Mary Beth Happ, and High Tech Anthropologists® at Menlo Innovations for helping us to achieve this milestone."
Rich Sheridan, CEO of Menlo Innovations, further explained, "Menlo has long had the mission of 'ending human suffering in the world as it relates to technology'. Our customers often involve us in product development efforts that also attempt to end suffering. We are pleased and proud to have partnered with Vidatak to allow nonvocal patients to be able to more effectively communicate with their caregivers and loved ones. Vidatak has a very noble mission, and it is an honor to have been able to help them achieve it."
Nonvocal patients can now access Vidatak's interactive, multi-lingual communication tool on their personal iPad or iPad provided by the hospital caring for them. The technology is NIH funded research and evidence-based Augmentive and Alternative Communication solution designed for the iPad.
"The VidaTalk patient communication application will allow nonvocal patients and care givers to improve communication capabilities throughout the healthcare continuum", stated Acuity Medical President Mark Tomchik. "Acuity Medical is excited to support this exciting new modality, and looks forward to demonstrating the VidaTalk app at the AACN Conference in May 2014".
Vidatak LLC is based in Ann Arbor, MI and Los Angeles, California and is the manufacturer of the Vidatak EZ Board™ and VidaTalk™.
Acuity Medical, Inc. is based in Annapolis, MD, and is the master distributor for Vidatak LLC products including the award winning EZ Board communication tool. They may be reached at 410-280-3800.
See us at the AACN National Teaching Institute & Critical Care Exposition, May 19-22 , 2014 - Booth # 2079.