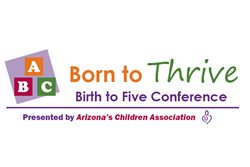 This opportunity will allow those in the field to share and gain new insights and information, helping us improve our work with the children and families we serve. - President & CEO Denise Ensdorff
Phoenix, AZ (PRWEB) May 06, 2014
In recent years, scientific research and knowledge on the critically important educational window of opportunity that occurs in infancy has increased dramatically. With increased understanding of how our early development affects the growth and wellbeing of the individual, the area of Birth to Five research and clinical practice has steadily come into focus in the Human Services field. As the body of psychological research on early development continues to expand, translating and sharing that important information about infant brain development with Human Service professionals is critical to the foundation of learning and success in the field.
As an Arizona statewide leader on the challenges facing our families and the Birth to Five population, Arizona's Children Association presents the Born To Thrive, Birth to Five Conference.
The intricacies of professional Human Service work with the Birth to Five population are complex; with issues ranging from developmental to sociological in nature. The conference will focus on overviews of cutting edge trends and knowledge bases in the fields of Child Welfare, Foster Care, Behavioral Health, and Neurodevelopmental Research and will attempt to answer many of the questions that Human Service Professionals have in regard to trends, background, research, and practical application of clinically appropriate service within the field.
At the event, attendees will have opportunities to learn from experts in the field. The conference will feature cofounder of New Directions Institute for Brain Development (NDI), Dr. Jill Stamm, as keynote speaker. Her presentation is titled: "Mindfulness in Parenting: Using Brain Science to Boost Our Skills."
Dr. Stamm earned her doctorate in Learning from Arizona State University, where she is an associate clinical professor in the Department of Psychology in Education. She is an author and a national and international speaker on early brain development and the connection of healthy brain growth to later learning and school achievement. Dr. Stamm is a member of the National Advisory Panel of the Learning & the Brain Conference series and serves on the Governor's Advisory Council for Science, Technology, Engineering and Mathematics Education (STEM) and is on the Advisory Board for the Arizona Science Center's exhibit on the brain. She has appeared on numerous television segments and is frequently quoted in child development articles in The Arizona Republic.
Conference sessions will be divided along three tracks. Among the noted session presenters include the FASD prevention bureau which will be presenting on the topic of substance exposed newborns for those who want to learn more about how substance exposure in utero can influence brain development. Marcia Stanton from Phoenix Children's Hospital will share her knowledge of how adverse childhood experiences can be crucial in our understanding of trauma and its presentation in infants and toddlers. Sessions included in each track are:
Track 1: Trauma Informed Care for Birth-5

"Working With Parents of Trauma-Affected Children 0-5" – Richard Brubaker + Heidi Kaminski, Arizona's Children Association
"Birth to Five Assessments" – Melissa Johnson + Tallona Dixon, Arizona's Children Association
"Overcoming Adverse Childhood Experiences: Creating Hope for a Healthier Arizona" – Marcia Stanton, Phoenix Children's Hospital
Track 2: Medical Integration for Children Birth-5

"Preventing and Assessing Prenatal Exposure to Alcohol and Other Drugs – Understanding the Effects on a Child's Development" – Sara Rumann + Dianna Contreras, Arizona Department of Health Services
"Medication Management For 0-5 & Appropriate Alternatives" – Dr. Svetlana Sembrano, Arizona's Children Association
"Integrating Primary Care with 0-5" – Dr. Julia Kelly, Maricopa Integrated Health Systems
Track 3: Children with Systemic Involvement, Birth-5

"Never Shake A Baby AZ: The Dangers of Shaking and How To Soothe a Crying Infant" – Nicole Valdez, Prevent Child Abuse Arizona
"Foster Care Process for 0-5" – Ricky Dennis, Arizona's Children Association
"What You Need to Know About Baby Court" – Ryan Krench, Attorney General's Office
"We are excited to present this day of professional development to students and Human Service professionals," said Arizona's Children Association President and CEO Denise Ensdorff. "This opportunity will allow those in the field to share and gain new insights and information, helping us improve our work with the children and families we serve."
Registration is available at http://www.BorntoThriveConference.org. Early registration is available for $95 with a discounted rate of $85 for students. CEUs are included.
About Arizona's Children Association
Arizona's Children Association is the best resource for helping children and families in the state. For 100 years, Arizona's Children Association (AzCA) has stayed true to "Protecting Children, Empowering Youth, Strengthening Families," serving more than 42,000 children, individuals and families in all 15 counties each year. We are one of the oldest and largest statewide child welfare and behavioral health nonprofit agencies in Arizona. Learn more at http://www.ArizonasChildren.org.