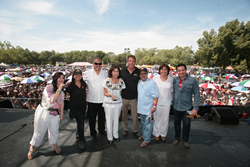 Los Angeles (PRWEB) May 05, 2014
The historic Cinco de Mayo festival lived up to its status as the nation's largest in yesterday's celebration, when it marked its 35th consecutive year with tens of thousands of passionate Angelenos turning Whittier Narrows Regional Park in South El Monte into a giant celebration of Latino culture, music and heritage.
Sponsored by Vallarta Supermarkets and organized by Del Rey Entertainment in conjunction with Liberman Broadcasting, the annual Whittier Narrows Cinco de Mayo festival creates a vital sense of tradition, positivity, pride and unity among the Southern California Hispanic community, as well as having an invaluable economic impact on surrounding businesses.
Marking victory at the Battle of Puebla on May 5, 1862, Cinco de Mayo is broadly recognized as a celebration of Mexican culture and tradition.
The Mexican American Opportunity Foundation (MAOF) was selected as the non-profit beneficiary for this year's Whittier Narrows festival, with Del Rey Marketing donating a portion of proceeds towards the organization's mission to provide for the socio-economic betterment of the greater Latino community of California, while preserving the pride, values and heritage of Mexican American culture.
"We are very pleased to collaborate with Del Rey Marketing on such important and significant events," said MAOF president Martin Castro before the festival. "We also look forward to using the festival to inform attendees on the community services we offer."
This year's event included former United States Secretary of Labor Hilda Solis receiving the Orgullo Latino Spirit Award, which honors an exemplary individual who is making a difference in the Latino community. Presented by Del Rey Entertainment and the MAOF, the award recognized Solis' extraordinary contribution to the Latino community and courageous leadership in healthcare, the environment, and clean energy solutions.
"I am so honored to receive this award," said Solis, who was the first Hispanic woman to serve in the California State Senate, upon receiving the award from Castro. "It was a great pleasure to share it with this community at such a spectacular event."
Before a vast, festive crowd enjoying balmy Southern California sunshine, Carlos Sada, Consul General of Mexico in Los Angeles, conducted a ceremonial flag salute, lead an enthusiastic sing-along of the Mexican national anthem, and delivered the traditional Cinco de Mayo message.
Among the household-name Latino music acts performing at the 2014 Whittier Narrows Cinco de Mayo festival were multifaceted musician and TV star Larry Hernandez; chart-topping regional Mexican band Voz de Mando, and Latin Grammy Award-winning duranguense group Los Horoscopos de Durango. Grupo 360, Juan Rivera, Cheyo Carrillo, Korina Lopez, and La Adictiva San Jose de Mesillas amongst others also appeared.
-more-
A new feature of the festival this year was a dedicated Health Pavilion, a unique exhibit area offering free health screenings, information on Covered California and the opportunity to enroll on-site with various providers, an interactive zone for kids, educational materials, nutrition samples and giveaways.
"We are thrilled to partner with Vallarta Supermarkets and continue their tradition of connecting with Hispanic consumers by staging further successful and historic events in the County of Los Angeles," said Chris Del Rey, president of Del Rey Marketing and Del Rey Entertainment.
Tickets for the free Whittier Narrows Cinco de Mayo Festival and upcoming Mexican Independence festival scheduled for September 14th are distributed throughout California at 44 participating Vallarta stores, as well as at MAOF offices.
For further information on the event and sponsorship opportunities please contact:
Del Rey Marketing / Del Rey Entertainment
323-201-0888 http://www.delreymarketing.com management(at)delreymarketing(dot)com
About Vallarta Supermarkets
Vallarta Supermarkets is a fast-growing, independently-owned supermarket chain. For over 25 years, Vallarta Supermarkets has maintained an image characterized by family values, service, cleanliness, beautiful decor, a pleasant shopping experience and a large variety of products in all departments. The chain offers its clientele exceptional quality and outstanding service at great prices. Vallarta Supermarkets has grown to 44 stores throughout California (Ventura, Los Angeles, San Bernardino, Kern, San Diego, Santa Barbara, Tulare, Orange and Fresno counties).
About Del Rey Marketing
Del Rey Marketing is a leading multicultural shopper marketing and promotions company specializing in reaching the growing Latino consumer demographic across the United States. In conjunction with Del Rey Entertainment, the rapidly-growing company also directs and produces live events featuring Latin music artists to promote major packaged goods companies, retailers and Fortune 500 corporations. Founded in 1996, Los Angeles-based Del Rey Marketing is 100-percent Hispanic owned and operated.
About the Mexican American Opportunity Foundation
The Mexican American Opportunity Foundation (MAOF) is a non-profit, community-based organization that was established in 1963 in order to serve disadvantaged individuals and families in the Los Angeles area. MAOF is the largest Latino-oriented, family services organization in the United States, and has achieved this status by providing high quality social services and programs to those communities where the need is the greatest.
Del Rey Marketing
323-201-0888
management(at)delreymarketing(dot)com