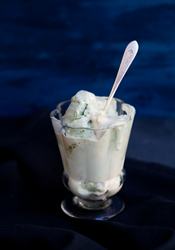 "For better or worse, no one knows what ghosts, potions, or Dracula's home recipe for Blood Pudding tastes like... this encourages people to forget what they think a flavor should taste like and enjoy a totally new experience."
(PRWEB) May 15, 2014
Portland's Salt & Straw brings the spooky and the sweet this Halloween through delicious ice cream flavors. Head ice cream maker Tyler Malek and his team concocted ice creams that highlight such dastardly tastes as Dracula's blood, skeletons hidden in a chocolate graveyard, the essence of ghosts and the Terpenjuice Potion (a nod to the wizardry wonders of Harry Potter) as well as treats like candy corn.
Salt & Straw's monthly menus typically highlight seasonal ingredients and recipes, but the Halloween Series showcases a more abstract, playful approach to creating ice cream flavors that reflect the spirit of the season.
"For better or worse, no one knows what ghosts, potions, or Dracula's home recipe for Blood Pudding tastes like... this encourages people to forget what they think a flavor should taste like and, instead, allow them to enjoy a totally new experience," says Tyler Malek. "For example, the sherbet "Essence of Ghost" is literally body-chilling; the flavor is a mysterious combo that draws on childhood memories, and the color is pale white with gentle wisps of gray like ghosts floating through a foggy field."
The Halloween Ice Cream Series will be available for October in store and for nationwide shipping. The price is $65 for five pints and can be ordered via Salt & Straw's website: http://www.saltandstraw.com.
Halloween Ice Cream Flavors
The Chocolate Graveyard
Guaranteed to deliver "shock-olate" delight! A gruesomely tasty combo of dirty-delicious chocolate ice cream, cake-like chocolate soil, and a ground-smattering of chocolate freckles. Beware as you dig through each scoop, you may find one of life's unexpected pleasures… skeletons! Homemade candy skeletons that is. Enjoy!
Dracula's Blood Pudding
Crafted for this year's Halloween "thrill shreekers", this is the most intoxicatingly impelling ice cream flavor we've ever featured. Balancing delectable and frightful in a heady mix of spices and cream cooked into real blood pudding and spun in our ice cream laboratory.
Candy Corn
Out of the box re-imagination of a favorite Halloween treat for all you boys and ghouls. We've eaten these little corn kernel candies for years, yet none know what the flavor actually is… only know that white tastes like white, yellow like yellow and orange like orange. Our ice cream is just that, layered with flavor from white to yellow to orange.
Essence of Ghost
Do the wisps of ghouls spooking a foggy graveyard give you the chills? This frigid sherbet might just bring back to that memorable moment of shivering pleasure. Conceptually, jets of tasty gray pass through deep foggy sherbet. Each bite of delivers a shrill set of flavors that are bitter, sweet, and slightly musky. So creepy and delicious.
Terpenjuice Potion
A special potion that'll feed your fear this Halloween. This potion brews together ingredients that fall into the flavor profile Terpene, one the most diabolically delicious of flavor compounds that appears in citrus fruits, coniferous trees, and other woodsy herbs. Some of the more notable of flavors you will find in this potion include rosemary-infused, candied ruby reds; oils of nutmeg and mint; and Oregon Spruce caramel newt guts (not made with real newts).
About Salt & Straw Ice Cream
Salt & Straw Ice Cream is a small batch ice cream company that partners with local artisans, producers and farmers to create unique and gourmet flavors. Their ice cream is handmade using only all natural cream from local farms throughout the Willamette Valley. Their flavors showcase the best local, organic and sustainable ingredients from Oregon farmers and artisans, such as Rogue Creamery, Stumptown Coffee Roasters and Olympic Provisions charcuterie, as well as imported flavors from small hand-picked farms from around the world. The company started serving eight flavors from an ice cream cart in May of 2011 and then moved to their first brick and mortar location on Aug. 12, 2011 at 2035 NE Alberta St. with an expanded ice cream flavor menu and new unique sundaes, inventive milkshakes and floats along with goods from local artisans. Their NW location opened on Apr. 27, 2012 at 838 NW 23rd Ave. and their SE scoop shop opened on July 2, 2013 at 3346 SE Division St. All shops use 100 percent renewable energy as well as fully compostable serveware for all to-go items. Scoops of hand-made, small batch ice creams, sundaes, milkshakes and floats as well as pints to go are available at each shop and served with impeccable service. Favorites, seasonal and design your own variety packs are available for online purchase and can be shipped anywhere in the United States. Salt & Straw's ice cream cart is available for catering parties and events. Find more information at http://www.saltandstraw.com or call 971-271-8168. Follow us on Facebook at Salt and Straw Ice Cream or Twitter @SaltandStraw.