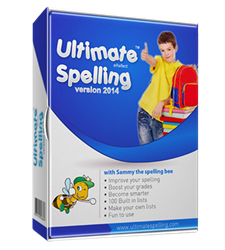 Each speller can adjust the learning parameters so that it meets their individual needs
New York City, NY (PRWEB) May 07, 2014
Spelling software developer eReflect has announced that a new review by A Moment In Our World promotes Ultimate Spelling™ software as a family-oriented software product that allows everyone to enjoy the learning-based fun and improve their spelling skills with games and activities.
As the homeschooling manager of the blog reveals in her review, the software allows people of all ages, and especially young children, to master orthography easily and quickly through the wide variety of activities, lessons and games it offers. This homeschooling family with two children had a chance to try Ultimate Spelling™ before reviewing it, so they were able to offer a unique insight into what it's really like learning how to spell with a software program. One of the software's features A Moment In Our World focuses on is the level of customization the software lends itself to. Each speller can adjust the learning parameters so that it meets their individual needs. In this manner, the software can help that user overcome their spelling difficulties in a manner that's suited to them. It's as if each user has their own personal spelling tutor where each activity is handpicked, notes the reviewer.
The reviewer also reveals how her young boys quickly found out that spelling is fun, and that they were eager to play the various spelling activities and games the software provides. This testimony will reassure parents of the appeal of the software to its main target audience, young spellers.
When considering software for homeschooling children, the reviewer emphasizes how helpful eReflect's product is, because it provides pre-programmed word lists for each school grade so that the young learner can keep up with the spelling level of the others at their age. Although this was most likely due to their youth, the reviewer noted that her two boys were mostly interested in the "fun and games" aspect of the software, but this is something she expects will change as they get older.
eReflect wishes to thank A Moment In Their World for this review of the software, as it will help more homeschooling parents understand the benefits of a spelling tutor .
***********
For more information about how Ultimate Spelling software can improve spelling performance for you and your family, please visit the official website at http://www.ultimatespelling.com.
About Ultimate Spelling™
Ultimate Spelling provides a modern and easy to use spelling software that has been designed with one goal in mind – making children want to learn.
It is a fast and easy way to master even the most complicated spelling, without the need to write long lists or complete boring tests.
In fact, Ultimate Spelling provides more than just spelling help. It is a complete educational resource that boosts all level of a child's literacy.
Containing a personal computer tutor, Ultimate Spelling is the most realistic step-by-step guide to flawless spelling ability.