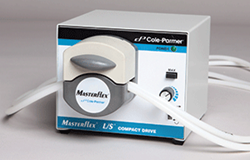 Vernon Hills, IL (PRWEB) May 06, 2014
A new compact pump for low flow fluid transfer offers the ease of use operators are looking for. The new Masterflex® L/S® Compact Pumps with Miniflex™ Pump Head from Cole-Parmer is a complete system which includes a pump head and drive.
Created for transferring, sampling, or filling applications in laboratories and research settings, the new peristaltic pump system delivers repeatable low flow rates with flow ranges of 1.8 to 220 mL/min (depending on the model and tubing size selected). It operates with continuous tubing to save costs by eliminating leakage and the need for fittings or connections, thus providing a cleaner fluid path. Select from several formulations of tubing. Automatic tubing retention makes the tube loading quick and painless—it takes less than 15 seconds.
The stackable Masterflex pump operates with single-turn speed control for forward or reversible pumping and maintains speed setting when the pump is turned off. Select from single-channel and dual-channel models.
To view the Masterflex® L/S® Compact Pump with Miniflex™ Pump Head, go to ColeParmer.com/20923 or call 800-323-4340 for more information.
Cole-Parmer has been a leading global source of laboratory and industrial fluid handling products, instrumentation, equipment, and supplies since 1955. Our product lines, including popular brand names such as Masterflex®, Oakton®, and more, are sold through company-owned customer channel outlets and a strong network of international dealers. We also feature an ISO-17025-accredited metrology lab for instrument calibration and repair. Cole-Parmer responds with excellence to customer needs, and offers application expertise and technical support. For more information, contact Cole-Parmer, 625 East Bunker Court, Vernon Hills, IL 60061. In the US, call 800-323-4340. International customers, call 847-549-7600. Visit us at ColeParmer.com.