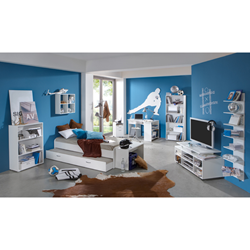 (PRWEB UK) 7 May 2014
With a lot of delight and excitement, FurnitureInFashion announces its latest prospects for growth and development. FurnitureInFashion plans to increase the productivity of the furniture manufactured by the company in order to meet the increasing demand for student accommodations. In order to produce more furniture equipment's and items, FurnitureInFashion has increased the yield of its manufacturing units. Through this, the company seeks to meet the requirements of various orders for student accommodations including a number of renowned universities.
FurnitureInFashion is the largest online furniture retailer and has been well-established since its inception in the year 2007. Due to the superior quality of furniture provided by the company to each of its clients, the demand has been escalating faster than ever. The constant upsurge has inspired the company board to come up with the new decided for expanding the production of its furniture collection designed especially for student accommodations.
Asad Shamim, the CEO and owner of the largest e-commerce for furniture and home furnishing, explained his idea behind the expansion and said, "With an enormous requirement of furniture for the growing clientele, it is essential for us to meet their needs and demand to live up to our promise of excellent service at all times."
For 7 years, FurnitureInFashion has been serving clients from different horizons with modern furniture. With the recent boom in demand for the supply of sturdy and modish furniture that meets the needs of various students, FurnitureInFashion has been working on the design and development of various furnishings that can meet the checklist of requirements effectively. The German manufacturing unit of FurnitureInFashion is spread over an area of 500,000 sq. ft. and is totally equipped with the most novel and modern machinery and tools to create furniture that is durable enough for the students. Various universities have placed their orders with the company and the largest online retailing store works proficiently round the year to ensure satisfaction for all of its patrons.
With an extremely strict quality check team, FurnitureInFashion properly inspects and scrutinizes each and every furniture item. This has been the prime reason for the addition of FurnitureInFashion's name among UK's leading Furniture retailers. FurnitureInFashion has been successfully selling over 7000 products annually that include furniture for living room, dining room, bedroom, office, kitchen and bathroom, especially furniture for student accommodation market.
FurnitureInFashion has been offering excellent customer and delivery services to all its clients worldwide and has established itself as one of the leading suppliers of furniture. The company has been growing at a good pace and aims at stretching out to greater heights with the intention of offering its services to more and more people. The e-commerce website of the company is easy to use and understand plus it ensures total authentication and safety while making online transactions. For further details about its showrooms and to view its inventory, you can visit the website at http://www.furnitureinfashion.net.