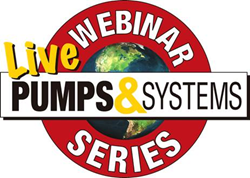 Birmingham, AL (PRWEB) May 07, 2014
Pumps & Systems, the leading magazine for pump users worldwide, is happy to announce "Grinder Pumps in Pressure Sewer Systems," a webinar presented in partnership with the Submersible Wastewater Pump Association (SWPA), the educational leader and authoritative source for the submersible wastewater pump industry for more than three decades.
The live webinar will take place June 19, 2014, at 1 p.m. Eastern. Register for free at http://www.pump-zone.com/webinars/grinder-pumps-pressure-sewer-systems.
In "Grinder Pumps in Pressure Sewer Systems," Clark Henry, director of engineering at Environment One Corporation, and Walt Erndt, vice president and general manager of the Municipal Group at CRANE Pumps & Systems, present fundamentals with an emphasis on the design, construction, installation, operation and maintenance of a system of carefully integrated components. Grinder pump stations contain several complex, interdependent components that must be properly matched to each other to ensure a long and economical life.
In this webinar, typical system component drawings will be presented—an elevation view and an aerial view—along with many of the terms commonly used in connection with grinder pumps and pressure sewer systems.
The one-hour event will include a 45-minute presentation followed by a 15-minute live question-and-answer segment.
About the Presenters
Clark Henry has 25 years of pressure sewer experience with Environment One and holds a BS in mechanical engineering from Clarkson University. He is an active SWPA member and served on SWPA's Executive Committee for five years. He was elected as the association's president for 2005. Henry is a past chairman of the SWPA Technical Committee and served as assistant chairman of the association's Grinder Pumps in Pressure Sewers Committee.
Walt Erndt has more than 25 years of experience in the wastewater industry and holds a BS in electrical engineering from Franklin University as well as a post-graduate certification from Carlson School of Management at the University of Minnesota. Before joining CRANE, Erndt spent 10 years at Environment One directing low-pressure sewer sales. Prior to Environment One, he worked in various engineering and management capacities with the Pentair Pump Group for 17 years. Walt has served as a member of SWPA's Executive Board of Directors as technical committee chairman and SWPA president. He is currently SWPA's immediate past president and chairman of the Nominating Committee.
About Pumps & Systems Magazine
Pumps & Systems is the voice of the pump and rotating equipment industry. As the leading magazine for pump users worldwide for more than 20 years, it delivers relevant industry news coverage and powerful technical information to more than 40,000 BPA-qualified managers, engineers, operators and maintenance professionals. Pumps & Systems is published monthly and is the only North American trade publication that covers pumps and related operations in every issue. Pumps & Systems is supported digitally with the No. 1 pump industry website, http://www.pump-zone.com. The magazine also delivers timely information and pump industry news through its monthly e-newsletters—Pump Industry Insider, Pump Users Digest and Products for Pump Users.