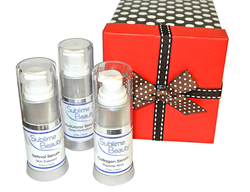 It's time to order your Mother's Day gift, and Sublime Beauty® has some excellent choices with fast shipping through Amazon.
St. Petersburg, FL (PRWEB) May 07, 2014
Mother's Day is almost here, and it's time to purchase your gifts. Sublime Beauty® has some great choices at 30% off!
"All of our gifts are in lovely festive gift boxes," says Kathy Heshelow, founder of Sublime Beauty®. "We combine serums or serums and jewelry that mom will love. And we have a Gift Card that never expires!"
Use coupon MOTHERGD for 30% off on the Amazon gifts below.
A lovely pearl-braided necklace is paired with the popular Collagen serum in the lovely box, and it is available at Amazon now for fast delivery.
An adorable necklace is also paired with the Collagen serum. The serum is a superior moisturizer that includes the peptide Matrixyl, which can double collagen levels in skin. This is important because collagen diminishes with age and is behind wrinkles and sagging of skin.
If mom loves skincare, we have paired two popular serums together: the Collagen Serum along with Retinol Serum. Retinol is important in skincare, and this one has the antioxidant Vitamin C. It is used at night, and works well in combination with the Collagen serum.
Not sure what to get? Sublime Beauty® offers gift cards on its webstore that never expire. Gift cards range from $25 to $300.
ABOUT: Sublime Beauty® is a quality skincare company that focuses on products to "Age Younger." Products help to boost collagen, hydrate, relax wrinkles and improve skin. A niche includes healthy Skin Brushes. The company webstore offers free standard shipping and a VIP Club. Products also available on Amazon.