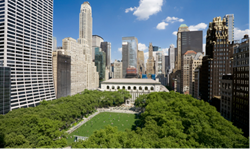 New York, NY (PRWEB) May 07, 2014
Pilates on Fifth owners Katherine and Kimberly Corp are excited to announce that they will be teaching one hour group Pilates mat classes in Bryant Park this summer starting on May 12 and running through September 22.
This is a special opportunity because the classes are entirely free, offered in the breathtaking area of Bryant Park in New York City and taught by two Pilates aficionados. Imagine early-morning Pilates in an oasis of calm, the soundtrack supplied by a gurgling fountain and chirping birds.
The classes will consist of expert Pilates instruction in a fun and non-intimidating environment. Katherine and Kimberly will cater the lessons to fit all ages, genders, shapes, sizes and fitness levels. Furthermore, there will be six to eight additional instructors at each and every class to ensure that participants are getting the most out of the opportunity. Pilates on Fifth will supply some mats, but participants are encouraged to bring their own.
The classes will take place on Monday mornings (excluding Memorial and Labor Day) from 7:30 am to 8:30 am on the Fountain Terrace, located on the Sixth Avenue side of the park at 41st Street. They will run throughout the entire summer, ending on September 22.
ABOUT PILATES ON FIFTH
Pilates on Fifth provides high quality, goal oriented fitness instruction to clients of all ages and fitness levels. For 14 years, the talented team of instructors at Pilates on Fifth has helped thousands of New Yorkers lose weight, tone muscles, walk taller and add more life to their years!
With personal training and group fitness classes offered for all of our services, health conscious New Yorkers can find a fitness routine right for their body – and their budget!
Click here to learn more about Pilates on Fifth.
Click here to learn more about Bryant Park FitClub classes being taught in Bryant Park.
Pilates on Fifth
212.687.8885
info(at)pilatesonfifth(dot)com