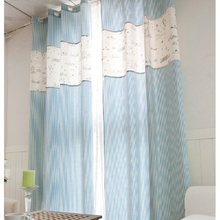 (PRWEB) May 08, 2014
The beautiful energy saving curtains offered by expert company Lightinhome.com are popular for quality materials, elegant designs and affordable prices. Recently, the company has released a new range of energy saving curtains, and launched a promotion for these wonderful items.
As a matter of fact, Lightinhome.com is striving to do everything to ensure customer satisfaction. As part of its comprehensive curtain solution, the company's online workers have listed its curtain tags on its website; that makes it more convenient for worldwide customers to find suitable items for themselves. Also, the company has arranged a lot of qualified workers to work at its online shop. All customers can ask related questions around the clock.
The company's marketing specialist is proud of its new energy saving curtains. "We are excited to announce our beautiful items and launch the big promotion. All of the new curtains are now available at discounted prices, up to 30 percent off. Before creating the fresh range, our top experts spent several months doing marketing research. Thus, I believe these products can certainly meet the needs and requirement of the global customers," he says.
After a few minutes, he adds happily, "By the way, the special offer will be valid until May 25, 2014. Clients who are interested in our new energy saving curtains should visit our online store as soon as possible."
About Lightinhome.com
Lightinhome.com is one of the world's leading home furnishing retailers; it provides custom curtains and all kinds of curtains at affordable rates. The company's products include vintage floral curtains, country curtains, blackout curtains and more. All its products are made from selected materials; they are promised to be soft and beautiful.
To find more information about the company's wonderful products, please visit: http://www.lightinhome.com/tags/.