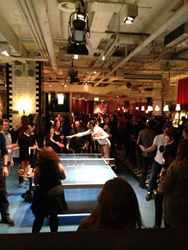 "Taking part in an activity is a more natural and easier way to get to know someone new." says DoingSomething.co.uk CEO and Founder Matt Janes
London (PRWEB UK) 8 May 2014
Following their recent success setting a World's Biggest Ping Pong Date record on Easter Sunday, the team are back. And this time it's Bigger, Bouncier, and even Pongy-er.
Singletons can get to know each other over a three way Ping Pong table (the puns write themselves), Space Hopper races and double the amount of Games Makers. The Games Makers act as Ping Pong coaches/Matchmakers bouncing singletons into one another and breaking the ice.
Throw in an egg and spoon race (with ping pong balls) and a six hour DJ set from the legendary Pete Pong and you're guaranteed a pretty 'batty night out'.
The Ping Pong date is a welcome relief for internet daters tired of 'Dead time Dating' i.e drinks in a bar, where the night tends to be peppered with awkward small talk, lengthy silences and moments of sheer panic.
'Taking part in an activity is a more natural and easier way to get to know someone new,' says DoingSomething.co.uk's CEO and co-founder, Matt Janes. 'And smashing a table tennis ball at someone's chest at 40mph even more so!' he jokes.
From a broader industry dating perspective, the move towards offline complementing online is key to differentiation in the ultra competitive online dating sector. Whilst DoingSomething.co.uk achieves success with highly original awkward-free formats, other big players including Match.com have tried to get into the event space too.
The party runs from 7.30pm – 2am on Bank Holiday Sunday where those yet to impress with their ping-pong moves can strut their stuff to the sounds of DJ Pete Pong.
'Bigger, Bouncier, Pongier' is one of a series of mass Ping Pong dates. Next in the calendar comes Hawaii Pong. Where a Limbo dancing competition and cocktail making class will accompany Ping Pong action. Future themes are closely guarded secrets.
Watch out for a mass Twitter 'virtual tag' game. Where every 20th person who re tweets a #passitpong hashtag gets a free entry on the night.
Tickets from £12 including entry, free 'pong all night long' and an after party will go on sale this week with official ticket partner, http://www.designmynight.com.
NOTES TO EDITORS
BOOKING INFORMATION
Date: 25th May 2014
Tickets from £12 for singles. Doors open at 7.30pm and the party lasts until 2am (last entry 11.30pm)
For more info, see http://www.doingsomething.co.uk.