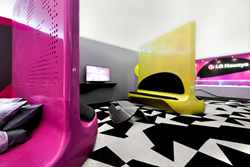 "LG Hausys' HI-MACS® allows me to create an amorphous solid-surface landscape that denotes a world with no boundaries. The surrounding interior of the LG Hausys exhibition becomes a state between liquid plastic and a solid material object." Karim Rashid.
(PRWEB UK) 8 May 2014
Design.
The dictionary definition of design is 'the process of constructing an idea which makes it visible and brings it into being'.
What is missing from this definition, however, is that design, like art and music, is a form of heritage. This means that it should be available to all and should be a common ground where people can come together regardless of the distance or differences between them. With its functionality and the power it represents, design is reality. It is brought to life in projects created to evolve and to make people evolve. It exists to make life easier, or simply give aesthetic pleasure.
Design is therefore a project and a 'construction process'. It is a set of ideas and steps that can be made into reality and produced, and that have a specific goal, whether it be simple or complex.
In this sense, HI-MACS® is the perfect material for giving life to design in its purest, most absolute sense of projects, goals and above all, something that is open to all without distinction. Milan Design Week was yet another opportunity for HI-MACS® to stamp its influence and to prove its place as the most versatile hi-tech material on the market, adapting to an endless variety of projects. The next generation acrylic stone brought to life Karim Rashid's visionary concepts in his Sparkle Krib design, an evocative installation at the Temporary Museum for New Design in collaboration with LG Electronics. This dream-like, animated living space literally lit up the Tortona circuit of the fringe show. The stunning installation gives us a fresh angle on modern living environments, breaking down architectural barriers and incorporating furniture into a continuous structure with an organic feel and high visual impact.
Karim Rashid speaks about Sparkle Krib, watch the video: https://www.youtube.com/watch?v=EozWVGRk8xg&list=UUB1eIbrpGoCuoBnSz3vyYCg
HI-MACS® was also the perfect material for a project in a more strictly technical vein. It formed part of Poliform Varenna's AdaptLiving kitchen prototype, designed by Politecnic of Milan, to be used by people with limited mobility.
The next generation acrylic stone also featured in a range of other designs at the 2014 main and fringe shows: furniture, with the Balance Lounge Chair by Pure Design; high technology instruments, with Cobra by Archi(Struc)tures DesLAB, bathroom accessories with the EllenbergerDesign project and Rifra's items Box, Smooth, Bowl and Adam lamp and kitchens with the decorative Zen hood for Novy, the Mod.Progetto Sistema by Ar-Tre and the Volare system by Aran Kitchens.
'Cobra', by Archi(Struc)tures DesLAB
Mod.Progetto Sistema by Ar-Tre fabricated by Union
This year, as never before, HI-MACS® showed that it can be adapted to any idea and can be moulded to create the most ambitious projects. It proved that it really is capable of bringing ideas to life.
Available in approximately 100 colourways, HI-MACS® is capable of reproducing the hard, cold tones of minerals and earth, but also fresher, more fashionable shades like the ones designed by Karim Rashid for the new Sparkle collection.
"HI-MACS® by LG Hausys is an outstandingly high quality material that offers designers and architects the optimum technical performance and almost endless possibilities, allowing them to create exciting spaces and projects. Today, people are looking increasingly for a holistic experience in their own living space and working in partnership with LG Electronics Italy on the Sparkle Krib stand allowed us to offer visitors an interactive multimedia vision of a living space, making it even more absorbing and interesting for them. All of the LG group's products are designed to complement each other and they are all produced with the same aim of making life better for people. To be able to display them together in the same space is a great opportunity for us."
Alex Kim, HI-MACS® Product Manager, LG Hausys Europe.
HI-MACS® is the high technology material that 'builds ideas and makes them visible'.
Design.
Photo credits: Federico Torra, Tiziana Arici