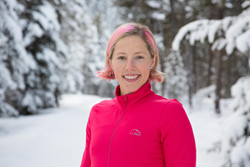 Kikkan serves as a fantastic role model for today's youth and that's what this Fast & Female event is all about—empowering young women to better understand how a healthy, active outdoor lifestyle can have enormous positive impacts on their life
Freeport, Maine (PRWEB) May 07, 2014
Internationally known outdoor retailer L.L.Bean, best known for its Bean Boot and 100% satisfaction guarantee is pleased to introduce its newest design and testing partner, Kikkan Randall, the most decorated female cross-country skier in US history. On Saturday, May 17 from 10-11 a.m. and 1-2 p.m., L.L.Bean and Kikkan Randall will be hosting an event through the organization Fast & Female, called the Power Hour.
What is a "Power Hour?" These hour-long events are designed to inspire and empower girls ages 9-19 with fun and athletic activities that complement other sports training. A Power Hour is an experience that your family won't want to miss. The event is free to the public and will take place at L.L.Bean's Discovery Park in Freeport, Maine. Space is limited so folks are encouraged to register online.
"We are simply thrilled to be partnering with Kikkan, for her product design and testing expertise, yes, but she also serves as a fantastic role model for today's youth and that's what this Fast & Female event is all about—empowering young women to better understand how a healthy, active outdoor lifestyle can have enormous positive impacts on their life," said Kelly Warsky, partnership marketing manager for L.L.Bean. "And an athlete of her stature will be able to offer us extremely valuable feedback and advice that will help us to continue to develop world-class products."
In addition to leading the two Power Hour events, Kikkan will also be available to sign autographs from 11:30 a.m. to 12:30 p.m.
About L.L.Bean, Inc.
L.L.Bean, Inc. is a leading multi-channel merchant of quality outdoor gear and apparel. Founded in 1912 by Leon Leonwood Bean, the company began as a one-room operation selling a single product, the Maine Hunting Shoe. While its business has grown substantially, the company remains committed to the same honest principles upon which it was built – a focus on the customer, continuous product improvement and innovation, respect for people, preservation of the natural environment and a 100% satisfaction guarantee. L.L.Bean products are rigorously tested, guaranteed to last and always shipped free. The 220,000 sq. ft. Flagship campus of stores in Freeport, Maine is open 24 hours a day, 365 days a year and welcomes more than three million visitors each year. L.L.Bean can be found worldwide at llbean.com. Join L.L.Bean on Facebook, Twitter and YouTube.
# # #