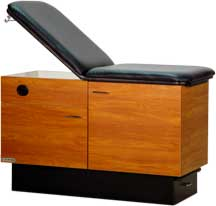 Wright City, MO (PRWEB) May 08, 2014
Goodtime Medical announces the addition of the Pro Series Family Exam Table. The Pro Series medical exam table is made to order for all medical examination needs. What makes this treatment table unique is the luxury to add only the options needed depending on the type of medical examination performed. This exam table may be customized with optional full extension drawers, tilting back rest, retractable stirrups, drain pan, and locks. The Pro Series medical exam table may be ordered in any of over 240 colors. The Pro Series exam table will compliment any medical furniture with a seamless pad available in over 88 colors. This treatment table will maximize exam room storage capacity with its large storage area with adjustable shelves. The Pro Series exam table features a pull step that rests firmly on the floor with a durable anti-slip tred for safety. Weight capacity for this table is 450 lbs.
Research reveals that specific design changes in healthcare environments can reduce stress and alleviate the consequences of that stress. An aesthetically pleasing environment will help alleviate stress on the patient in the doctor's office making them feel more comfortable and more relaxed. This can also help prevent medical errors while improving staff morale and efficiency.
Goodtime Medical is located in Wright City Missouri, just outside St. Louis Missouri and has been in business since 1996. For more information about the tables and Goodtime Medical, please visit the website at http://www.examtables.com or call at 888-386-8225.