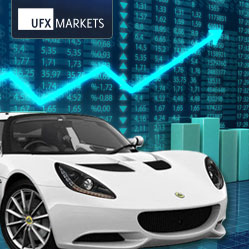 One lucky UFXMarkets Trader will be driving a brand new Lotus Elise in time for the summer.
London, UK (PRWEB UK) 8 May 2014
UFXMarkets has received significant industry recognition in recent years, including a hat trick of awards already in 2014 from online Forex Trader resource FXReport. As the registered broker has grown, it has chosen to share its success with UFXMarkets Traders by hosting regular promotions and competitions.
"As a Straight-Through-Processing [STP] broker, we have no conflicts of interest and our Traders know we have their best interests in mind," says Dennis de Jong, Managing Director at UFXMarkets. "We want to thank our Traders for their loyalty and the best way to do that is with generous bonuses and prizes."
The latest UFXMarkets initiative is the Lotus Elise Trading Competition launched on May 1st, which asks Traders to pick an asset, Gold or Oil, and to earn guesses to be used to predict the closing price of either asset at the end of the first trading week in June.
"We are really excited about the Lotus Elise Trading Competition and it is great to see existing and new Traders joining in so enthusiastically. Bottom line: one lucky UFXMarkets Trader will be driving a brand new Lotus Elise in time for the summer."
The money Traders deposit to be eligible for the Lotus Elise Trading Competition remains securely in their trading accounts, whether they make the five-trade minimum or open hundreds of positions on any of 90 tradable assets available at UFXMarkets. The prospect of winning a car with just five trades (which earn one guess) has its obvious draws, however UFXMarkets considers the trading it encourages to be the ultimate reward:
"Gold and Oil are the world's two most-traded commodities and we teach our Traders a variety of fundamental and technical analysis techniques that can help to predict the range of closing prices for such assets. Naturally, by joining the competition participants will spend more time considering the techniques they learn with their personal coaches."
You can join UFXMarkets' Lotus Elise Trading Competition at ufxmarkets.com/topgear.