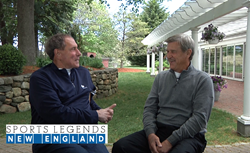 Boston, MA (PRWEB) May 08, 2014
With the Bruins pushing deep into the playoffs against their heated rivals the Montreal Canadiens, Sports Legends New England will broadcast a special re-airing of Bob Lobel's interview with Hall of Famer and Bruins' legendary defenseman Bobby Orr this weekend.
Lobel and Orr sit down to discuss Bruins' players past and present, the differences in today's game and Orr's new book. The episode also provides a rare glimpse at the unique connection between broadcaster and athlete and highlights the series of television commercial appearances they made together over the years.
Sports Legends New England airs at 12:30pm on Sundays on WBIN TV Boston, and 11:00pm on Saturdays on WPME TV Portland.
About Sports Legends New England
Legendary sportscaster Bob Lobel uses his distinctive interviewing style on Sports Legends New England. Now in it's fifth season, conversations with some of New England's biggest sports heroes including Bobby Orr, Carlton Fisk, Ray Bourque, Troy Brown, Carl Yastrzemski, Jim Craig, Danny Ainge, Cam Neely and Steve Grogan have aired. Legends from the Bruins, Patriots, Celtics, Red Sox and college sports have sat down with Lobel in unique locations and told behind-the-scenes stories New Englanders have never heard before.
"Generations of New England sports fans will appreciate these never before seen interviews. The legends I have spoken to this year have been more candid than ever before," says Lobel. "It's great to sit down and talk with these sport legends and hear fascinating stories we have never heard in depth before."