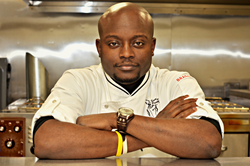 New Rochelle, NY (PRWEB) May 09, 2014
Monroe College, a national leader in urban and international education, today announced that its culinary school pastry instructor Ebow Dadzie has been named among the top ten pastry chefs in America by Dessert Professional magazine, the nation's leading food service publication for the pastry, baking, ice cream and chocolate industries. He will be honored at the magazine's 21st annual Top Ten Pastry Chefs in America Awards at The Institute of Culinary Education (ICE) in New York City on June 2.
Chef Dadzie is the Pastry Chef at the New York Marriott Marquis hotel in Manhattan, and has been a pastry instructor and confectionery team coach at Monroe College's School of Hospitality Management and Culinary Arts in New Rochelle for the past three years. Under his leadership, the college's confectionery team has won two grand prize championships during the annual Salon of Culinary Art competition at the International Hotel, Motel and Restaurant Show in Manhattan.
"What sets Monroe apart is our faculty's relevant, real-world experience, and proven expertise in their fields," said Stephen Jerome, president of Monroe College. "Chef Dadzie is another example of an accomplished professional who is able to provide our students with valuable industry insight, which in turn prepares them to meet the fast-evolving requirements of today's workforce."
"As a former student of mine at the New York City College of Technology, and now as a colleague, I am delighted to see Chef Dadzie's work attract such a noteworthy honor, as it speaks volumes about his culinary capabilities and talent," said Frank Costantino, Dean of Monroe College's School of Hospitality Management and the Culinary Arts, who himself was named Chef of the Year by the ACF Long Island Chapter in 2013. "The breadth of professional experience he brings to our pastry students, both inside the classroom and during our competitions, is of immeasurable value to the success of our students and our culinary program as a whole."
Chef Dadzie was most recently recognized in March 2014 as one of the 40 Rising Stars Under 40 by MSR Magazine. He was considered the Most Influential Pastry Chef in 2012 by the Black Culinary Alliance, and was awarded the Outstanding Achievement Award the same year. In 2010, he was awarded the Medal of the French Government for excellence in pastry and confectionery arts by the French Consulate, and was named the Pastry Chef of the Year by Paris Gourmet in 2007. He co-holds the 2006 Guinness World Record for building the world's tallest sugar skyscraper – a 16 foot, 4.3 inch replica of the Empire State Building, which won The Food Network's "World's Largest Sugar Showpiece Challenge."
Originally from the Caribbean and raised in Brooklyn, Chef Dadzie graduated from the New York City College of Technology in 2003 with a bachelor's degree in hospitality management, and a minor in pastry and confectionery arts. He began his professional career as a Pastry Commis at the Grand Hyatt New York Hotel.
The Top Ten Pastry Chefs in America Awards event will begin at 5:30pm with hors d'oeuvres, wine and champagne, followed by the awards ceremony at 6:15pm, and later, a walk-around tasting of desserts paired with specialty cocktails from some of the most talented chefs and mixologists in the nation.
In its 21st year, the Top Ten Pastry Chefs in America Awards are the longest-running professional dessert awards in the United States. The 2014 winners will be featured in the August issue of Dessert Professional, which recognized the ten chefs for their outstanding technical skill, artistry and culinary hospitality. To see the Top Ten Pastry Chefs announcement from Dessert Professional, please see here.
Monroe College's Culinary Arts program is a world-class program that prepares students for professional careers in the culinary field. Taught by a faculty of experienced industry professionals, many of whom are certified by the American Culinary Federation, students gain valuable instruction and mentoring in a real-world culinary environment. Since 2009, the program has received nearly 500 awards, including 15 gold and 10 silver medals at the last three NY state championships, as well as the coveted Marc Sarrazin trophy at the International Hotel, Motel and Restaurant Show in NYC in 2011 and 2013. For more information, please visit here.
About Monroe College
Founded in 1933, New York-based Monroe College is a nationally ranked private institution of higher learning with a real world learning approach that prioritizes hands-on academic experiences, practical and relevant academic programs, flexible learning schedules, best-in-class instructional technologies, and committed and engaged faculty to ensure that students are well positioned for career success upon graduation. Monroe College graduates more minority students than any other college in New York State.
Monroe College offers Certificate, Associate, Bachelor's, and Master's degree programs. It has campuses in the Bronx, New Rochelle, as well as in the Caribbean nation of St. Lucia, with programs offered through its Schools of Criminal Justice, Information Technology, Nursing, Education, Business & Accounting, Hospitality Management and Culinary Arts, and Allied Health Professions, as well as through its liberal arts and continuing education programs, and its King Graduate School. For more information and admissions criteria, please visit http://www.monroecollege.edu.