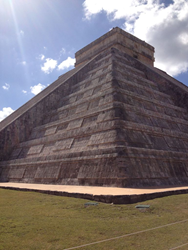 San Francisco, CA (PRWEB) May 08, 2014
Cinco de Mayo may be over, but the party doesn't have to end. Viator, the leading resource for researching and booking tours and activities worldwide, is keeping things 'caliente' by unveiling its "Top 10 Insider's Picks in Mexico" for travelers looking to keep that festive feeling alive. While it's sure to be hot (in more ways than one), other reasons to consider travel to Mexico in the summer include smaller crowds, better deals on flights and accommodations, an active festival schedule and a more lush and tropical landscape.
Chichen Itza – Chichen Itza holds both mystery and magic, and the comprehensive Chichen Itza Day Trip from Cancun explores the most important archaeological zone and ancient capital of the Mayan Empire complete with a buffet-style lunch while watching a traditional folkloric dance. The Viator Exclusive: Early Access to Chichen Itza with a Private Archaeologist bypasses the crowds and includes a private tour of the site that other tourists don't see. And those with plenty of time on their side will enjoy the 8-Day Best of Mexico Tour: Mexico City to Cancun, which stops at Chichen Itza as well as other famous landmarks along the way.
Teotihuacan – The Experience Mexico City, Teotihuacan Pyramids by Metro and Dinner with a Local Family immerses travelers well within the local culture including transportation by public metro (accompanied by an expert local guide), a visit to the pyramids at sunset to avoid the daytime crowds, and dinner in the home of a local family. For a more comprehensive tour of the City of the Gods, the small group Early Morning Teotihuacan Pyramids Tour with a Private Archaeologist includes stops at less-visited monuments and more famous structures and pyramids along with tastings of tequila, mescal and pulque.
Tulum – Families love the Tulum and Xel-Ha All Inclusive Day Trip from Cancun, which combines a 45-minute guided tour of the Mayan ruins at Tulum with a visit to the Xel-Ha aquatic theme park for snorkeling, cliff diving, bicycling, kayaking, cave exploring or simply relaxing on the beach.
Living La Vida Loca – Other Viator Top 10 Insider's Picks in Mexico include Tequila Express: Guadalajara Tequila Train Tour with Tastings (discover how the world's tequila is made – and tastes!); Experience Mexico City: Cantinas, Lucha Libre and Mariachi in Garibaldi Square (drink, dine, sing and dance the night away); Sightseeing, Snorkeling and Dancing Catamaran Cruise from Cancun (spend the day snorkeling, sightseeing, salsa dancing and shopping) and Riviera Maya Dolphin Royal Swim.
In addition to these classic destinations, Viator has recently added a few new cities to the offering in Mexico including Guadalajara, Merida, Veracruz, Oaxaca and Huatulco, with plans to offer activities in Monterrey and Chiapas in June. For more information on Viator's Mexico tours and things to do as well as the latest deals, promotions, contests and news, check out Viator.com, the Viator Tours & Activities App (iOS and Android) and the Viator Travel Blog. Follow Viator on Facebook and Twitter.
About Viator
Viator is the leading global tours and activities provider for travelers, delivering online and mobile access to thousands of curated trip activities including tours, attractions, shore excursions and private guides, in more than 1,500 destinations worldwide. In-house travel experts work with trusted local operators to ensure the quality and value of every experience, all backed by Viator's 24/7 customer service and global low-price guarantee. With more than 500,000 verified reviews plus exclusive videos and insider travel tips, Viator has everything a traveler needs to find and book the best things to do worldwide. In addition to the flagship site – Viator.com – travelers can book in advance or in-destination via the Viator Tours and Activities App, as well as local-language sites for European, Latin American and Asian travelers. Viator also provides tours and activities to more than 3,000 affiliate partners including some of the world's top airlines, hotels and online travel agencies. Founded in 1995, Viator is a privately held company headquartered in San Francisco with regional offices in Sydney, London and Las Vegas. Viator – travel with an insider.