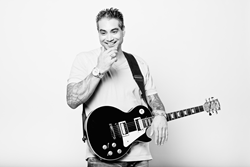 Fort Lauderdale, FL (PRWEB) May 26, 2014
Fort Lauderdale guitar instructor Dyce Kimura has announced that he is now offering voice lessons in addition to his popular guitar lessons. For the month of June, students will receive a 50% discount on their first lesson when signing up for a package deal.
"Hundreds of people attempt to break out and become nationally recognized professional singers," said Kimura. "Music captivates our attention so thoroughly that even television programs now focus on showcasing people with vocal talent."
As the need for professional vocal lessons has grown, Kimura decided to extend his services to include vocal instruction. He implements a series of simple exercises during his Fort Lauderdale singing lessons, which were the exercises he used to develop his own singing talents. "I am a singer and continue to use these techniques," said Kimura. "They are important for my role as a worship leader at my church. I know how powerful music is, and I want to help others improve upon their natural talents."
Dyce Kimura's Fort Lauderdale voice lessons offer students the following:

Range extension
Mixing vocal registers
Instruction on delivering more power with less effort
Trills, lick and runs
Vibrato development
Guidance with eliminating vocal strain
Using a number of techniques, Kimura's students can expect to improve their control and endurance, and also reduce vocal strain. Students will learn how to hear and hit the right pitch and learn about methods that improve their range.
As a teacher, Dyce Kimura works with students with varying areas of natural ability. His Fort Lauderdale singing lessons are designed to help students with previous knowledge and experience as singers. However, he can also instruct people with no previous experience. Kimura explained that he begins by analyzing new students' abilities; he then creates a plan to help singers understand where improvement is needed.
While Dyce Kimura spends a great deal of time singing and playing Christian music, he teaches a variety of singing styles and techniques. He tailors his advice and solutions to the techniques of his students while providing general tips for overall improvement.
"Music is a gift and a blessing," he said, "My lessons and exercises are designed to improve each person's abilities. Over time, students will notice that they deliver a more powerful sound without the same amount of effort, they will hit higher and lower notes, and they will maintain a better tone for longer."
Kimura offers a variety of package deals for lessons. A summer special for the month of June includes a 50% discount on the first lesson for those who sign up for one of the package deals.
Dyce Kimura provides voice exercises and singing lessons for aspiring singers. He is an experienced professional singer and master guitarist.
Contact:
Dyce Kimura
786-457-3687