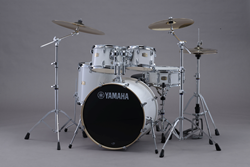 Buena Park, CA (PRWEB) May 15, 2014
The redesigned Yamaha Stage Custom Birch drum set is now shipping. Already considered to be pound-for-pound among the best drum sets in its class, the new generation Stage Custom Birch has received several significant upgrades.
Many of the changes are subtle, yet substantial. Yamaha upgraded the shells with the same thicker ply concept used on Live Custom and rounded the bearing edges for more head to shell contact, which provides a fatter sound. The Absolute style lug, which attaches to the shell using a single screw, requires fewer holes in the shell and less metal inside the drum, allowing the drums to resonate more fully. Die-cast claws and new spurs now adorn the bass drum and the snare drum now includes ten lugs for more precise tuning.
Stage Custom Birch kits also come in new sizes. Tom and floor tom sizes are now available at traditional depths and diameters, offering wider tuning and dynamic ranges. The floor toms, trimmed down to be under square, provide a better tone to attack balance. The drum sets also offer excellent finishes, high-end specs and superior hardware at a great value.
Pricing
Yamaha Stage Custom Birch drum sets shell packs (MSRP: $870 to $1,100).
For more information, please visit http://4wrd.it/stagecustombirch2.
About Yamaha
Yamaha Corporation of America (YCA) is one of the largest subsidiaries of Yamaha Corporation, Japan and offers a full line of award-winning musical instruments, sound reinforcement and home entertainment products to the U.S. market. Products include: Yamaha acoustic, digital and hybrid pianos, portable keyboards, guitars, acoustic and electronic drums, band and orchestral instruments, marching percussion products, synthesizers, professional digital and analog audio equipment, Steinberg recording products and Nexo commercial audio products, as well as AV receivers, amplifiers, Blu-ray/CD players, iPod docking systems, home-theater-in-a-box systems, earphones, headphones, sound bars, and its exclusive line of Digital Sound Projectors. YCA markets innovative, finely crafted technology and entertainment products and musical instruments targeted to the hobbyist, education, worship, professional music, installation and consumer markets.