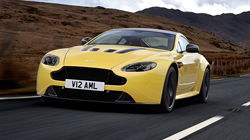 New York, New York (PRWEB) May 09, 2014
The Luxury Review is celebrating its 5th year with the season's hottest new luxury offerings. The latest and greatest from the world's most revered brands will be unveiled at this exclusive event. Among the evening's most anticipated unveilings are new models from Aston Martin, McLaren and Ducati. The Luxury Review is an invite-only press showcase hosted by RAND Luxury displaying the latest in luxury products & services from renowned world-class brands in industries including automotive, jewelry, private aviation, resorts, spirits, electronics, home design and more.
The Luxury Review is proud to announce an exciting array of launches:
Aston Martin V12 Vantage S: The most ferocious Aston Martin ever produced which combines the unprecedented engineering achievement of the V12 Vantage, with an even lighter chassis, an even more powerful engine, and an even more responsive transmission.
McLaren 650S: The McLaren 650S breaks the mold – a sensational drive, yet generously equipped and extraordinarily comfortable.
Ducati 1200: Ducati will be unveiling the new Ducati 1200 Motorcycle, which combines the performance and fluidity of the new Testastretta 11° DS engine, the versatility of the three Riding Modes, the comfort of the adjustable seat and passenger handles make the Monster 1200 a bike that is capable of adapting to any occasion.
Untapped Water Systems: 3 new groundbreaking products that raise the bar; "The AIR-X, One Touch" UV Water Bottle, and the "One Touch" UV Water Pitcher, which produce fresh water and pure air with beautiful, simple products that are environmentally friendly.
Guests and press will be treated to cuisine from Salon de Lafayette, a new art inspired restaurant in Soho built upon a time-honored "salon" tradition reinterpreted through a modern lens. Commonly associated with French literary and philosophical movements of the 17th and 18th centuries, a salon is a gathering of creative people under the roof of an inspiring host, held to amuse one another and to refine the taste and increase the knowledge of the participants through conversation.
The participating brands include: Alacran Tequila, Amy Glaswand Collection, Aston Martin, Bucco Couture, Christopher Designs, CLEANCOATING LLC / ISPBC, DBC City Bike Design, Ducati Triumph New York, Eleven James, Eternal Fine Jewels, Forever Young Wine, Grandstand Sports & Memorabilia, Gurkha Cigars, Hacker Boat Co., House of Hart Art, John Allan's, Kaleidescape, La Maison du Chocolat, Lily SPOTS NYC, McLaren Long Island, P3ProSwing / Sports Vision Technologies, Peloton Cycle, Peroni, Phil Caggiano Design, Purity Vodka, Starbright Floral Design, Steinway & Sons, Stylinity, WILLIAM ABRAHAM, The Atlas Network/Sweet Wood Golf, Thompson Speedway Motorsports Park, UWS Untapped Water Systems / ISPBC, Velodyne, Voss Water and Wings Air Helicopters.
Also on display will be modern pieces of artwork from international artist Hallie Hart, whose recent collection was just featured in the GenLucArt exhibition in Monaco.
The event's silent auction's proceeds will benefit the Kick4Life charity, which uses the power of sport to transform the lives of disadvantaged young people in southern Africa.
Location: The Altman Building, 135 West 18th Street, New York, NY
Time: Press & Media Only: 4 p.m. – 6 p.m.
Press, VIP Guests & Clients: 6 p.m. – 9 p.m.
About RAND Luxury:
Rand Luxury, the producer of The Luxury Review, is an international event-production company that caters to the world's finest luxury brands. Based in Manhattan, founded by Bradford Rand, the team is best known for its Invitation-Only events where RAND partners with fine automotive manufacturers to support the launch of their latest automobiles. RAND has produced unveiling showcases, evening of luxury events and elite brunch events for Lamborghini, Bugatti, Rolls-Royce, Aston Martin, Bentley & Maserati. Adjacent to these fine motorcars, RAND creates a luxury lifestyle experience by inviting complementary brands to showcase their products and services to the distinguished list of guests and media that are invited.
Details: http://www.TheLuxuryReview.com
Media Contact: Jaime Chew of Evins Communications; jaimie(dot)chew(at)evins(dot)com -
Office: 212.377.3595 Mobile: 917.623.2530
Event Contact: Bradford Rand, CEO of RAND Luxury, Inc. Brand(at)RANDLuxury(dot)com
Office: 212.655.4505 ext. 223 Mobile: 917.992.1333