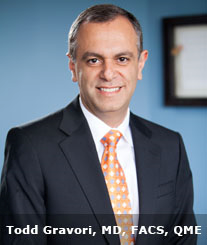 One of the reasons lower back pain is so common is that it can be caused by a wide variety of factors.
Beverly Hills, CA (PRWEB) May 09, 2014
Although lower back pain costs Americans around $50 billion per year, the latest findings from National Institute of Neurological Disorders and Stroke (NINDS) show we are not alone when it comes to suffering from this chronic condition. Around the world, back pain is the main culprit behind so many becoming unable to work and is the number one cause of disability. While the frequency of lower back pain differs from region to region, overall 1 in 10 of the world's population experience low back pain.
"What many don't realize is that back pain is usually a symptom of another problem. One of the reasons lower back pain is so common is that it can be caused by a wide variety of factors," stated Dr. Gravori.
What Causes Lower Back Pain?
Because the spine is a complex structure, back pain can originate from several spinal elements. Back pain is most commonly caused by:

Bone fractions, tumors, or infections
Spinal disc herniation, slipped disc, or degenerative disc disease
Muscle strain or damage
Nerve compression or damage
Because low back pain can look different from person to person, it becomes crucial for patients to work with doctors to accurately identify the underlying cause of their lower back pain.
"Back pain has diminished the quality of life for so many people around the world. If people do not get to the root of what is causing their back pain, they will never find the right treatment," explained Dr. Gravori.
What are the Best Treatments for Lower Back Pain?
Effective lower back pain treatments will vary depending on the source of the pain. For most people, exercise, physical therapy, and other pain management techniques may help alleviate chronic back pain. However, there are surgical procedures available to alleviate back pain for those who need it. At ProMed SPINE, Dr. Gravori specializes in the most advanced minimally invasive spine surgery techniques.
"Surgery should be a last resort for people suffering from chronic back pain. It's important for patients to be knowledgeable about their condition so that they can make informed decisions about the treatment that's right for them," said Dr. Gravori.
Based in Los Angeles, Todd Gravori, MD, FACS, QME is a board-certified spinal and neurosurgeon specializing in the treatment of back, neck, and spinal conditions via minimally invasive procedures. From each of his five boutique locations, Dr. Gravori offers comprehensive treatment including diagnosis, education, treatment, surgery, and aftercare. Dr. Gravori offers treatment for herniated discs, spinal instability, spinal deformity, spine tumors, brain tumors, meningioma, hematomas, cavernous malformations, and carpel tunnel. Unlike large hospitals, Dr. Gravori's unique outpatient structure offers personalized care in a safe and controlled environment. To learn more about Dr. Gravori and his high-end outpatient facilities, visit the new website at http://www.ProMedSpine.com.