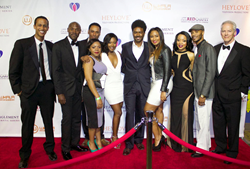 We're not waiting for Hollywood to give us a Green Light. As a cooperative force, we're disruptive to the status quo.
Oakland, California (PRWEB) May 08, 2014
HeyLove Television in association with Whala Entertainment announced today that it is launching a Kickstarter.com fundraising campaign on May 8, 2014, to fund the complete production of Season One of Entanglement: The Dramatic Series. The Kickstarter.com fundraiser will offer prizes and awards to its contributors during its 60-day campaign ending July 6th. View Kickstarter campaign: http://www.EntanglementTV.com.
Created by Diallo M Jeffery of HeyLove Television, and produced in association with Omar Howard of Whala Entertainment, Entanglement: The Dramatic Series, is an independently produced 12-part scripted episodic narrative developed for premium broadcast television.
The pilot episode opens in Atlanta, as two women sit down to discuss one's previous night's discovery. With the intention of finding out the sexual proclivity of a new male friend, a plan is hatched that could unravel a relationship and career.
"We've been told that Entanglement is Scandal meets Being Mary Jane, entwined in the narrative dynamic of Crash, The Red Violin, or Thirteen Conversations," says Jeffery.
Unfolding over twelve episodes, Entanglement: The Dramatic Series is the story of a clash of paradigms; social, political, racial and generational.
"As characters increase in awareness, they find themselves at forks in the road, asking themselves: What are my values? Where do I stand with others? Must I follow traditions or chart my own path? No ground is safe, everything's in flux, as is our modern world," Jeffery adds.
Determined to demolish barriers of entry into cinema and broadcast television, Jeffery and Howard hosted a successful theatrical red carpet screening of the "First Impressions" pilot of Entanglement in Atlanta, at the renowned Landmark Midtown Art Cinema on March 27, 2014.
"We're here to shake things up, and nothing about our product or process is conventional. The notion of shopping a script around town, hoping not to lose too much authenticity or creative control, falls short of the full potential of a supportive artistic collaborative community," says Jeffery. "We're not waiting for Hollywood to give us a Green Light. As a cooperative force, we're disruptive to the status quo. We're paving our own lane to success by offering the audience a vote with the Kickstarter."
Amid an audience of over 175 Atlanta influencers were notables Mimi Faust of VH-1's Love and Hip Hop, Reigndrop Lopez, and Dr. Rondrick Williams from The Doctors on CBS. The event was hosted by former NFL athlete/actor Stevie Baggs Jr., who agreed to play a starring role in the future of the series.
Jeffery and Howard, both graduates of Morehouse College, invested considerable personal and financial capital to their venture, which began more than a year ago. The duo, each with national broadcast television experience and credentials, vowed to empower the immense national pool of talented, but overlooked actors, scripting compelling characters for ensemble casts.
Jeffery adds, "We are counting on the public to pledge their support in helping us reshape how TV gets made. Pledges start as low as $5, and contributors receive gifts from the Entanglement production and cast corresponding to their contribution level. From warm thank you emails, to signed copies of photos and scripts, to DVD/BluRay combo packs and digital downloads of the complete series, to VIP tickets to the spectacular red carpet screening we are hosting in Hollywood, California in 2015."
Production of the remaining episodes of Season One of Entanglement is set to resume in August 2014. Upon completion of production, Jeffery and Howard will prepare and package Entanglement for syndication and licensing for broadcast and digital distribution in the spring of 2015.
Jeffery and Howard expect to catalyze a movement to 'refresh' the face of television from the grassroots level. "The success of our campaign will prove our concept, and will hopefully empower more writers, actors and filmmakers," says Jeffery.
To view the pilot episode of Entanglement: The Dramatic Series and make a pledge to the campaign, please visit the show's website: http://www.EntanglementTV.com.
Follow the campaign on Instagram @entanglementTV and Twitter @EntanglementTV.
For additional information on Entanglement: The Dramatic Series, including employment and internship opportunities, contact Diallo Jeffery at: casting(at)entanglementTV(dot)com or visit http://www.entanglementTV.com.