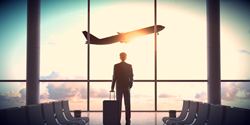 You cannot be old and wise if you are not young and crazy
(PRWEB UK) 19 May 2014
Vacations have forever been touted as the ultimate way rejuvenate, recharge and revitalise a flagging spirit and health. Spa getaways, nature retreats, road trips, beach resort – they're all classic examples of how people take a break from life and the world for a chance to pamper themselves. But travelling can be a wonderful pick-me-up even when it's not solely focused on relaxation. Whether it's a weekend of lounging at a hot spring, a quick trek away to nearest hill station or a hop cross country to attend a music festival or a fiesta, travelling frequently keeps the spirit and the body young.
Here's why.
Mental Agility
Planning is easy. A vacation can be planned to perfection, all the arrivals and departures, check ins and check outs, and fees and fares narrowed down to the last detail. Is it ever going to work out exactly according to plan? Not an ice cube's chance in hell. In fact, expecting that things will go according to plan is a pretty oxymoronic sort of optimism.The whole point of travelling is to visit the unfamiliar. One cannot predict the unfamiliar! Travelling sharpens the mind by training it to deal with the unexpected at every stage, to instantly look for alternatives and fall-backs moment to moment. It creates a sharp learning curve, which in itself is greatly rewarding (leaning something new releases dopamine and mildly excites the brain in the same regions that get activated by cocaine). Merely picking up a second language greatly enhances cognitive ability and can actually stave off neuro-degenerative diseases like dementia and Alzheimers!
Prepares You To Handle Stress
People hate – absolutely hate – being taken out of their comfort zones. The unfamiliarity and change of a new world scares the bejesus out the regular guy. Even if people do visit other places, they'll restrict their wandering to all that is most well known. Every body's heard of Paris, Marseille and Cannes but how many can name Rouen? The world of psychology has long held that stressed out people are unhealthier and unhappier – and they don't live as long as relaxed people. But according to a popular TED Talk by Kelly McGonigal,recent revolutionary research conclusively showed that stress is bad only if handled badly! When a stressful situation is embraced, especially by reaching out to others, the body responds by chemically enhancing the quality known as courage and increases social intelligence! People who thrive on stress actually live longer than anyone else! By putting people through new cultures and new people, travelling revitalises the very spirit of enterprise – creating a healthier, happier and hipper person!
Physical Fitness
Going to a new place and not taking time to immerse in its land is a bit like getting a pet and not playing with it – it completely defeats the point. Switzerland is supposed to be heaven on Earth, one best enjoyed by skiing, skydiving, swimming, hiking, cycling and climbing. Ditto for Yosemite National Park, the Annapurna Trek Circuit, the beaches of South East Asia or any other place where the purpose is getting in touch with nature. What about visits constrained to cities? Any sort of a jaunt at all will involve a significant amount of walking. Taking an entire city on by foot over a week alone can do wonders for general body tone. Death numbers are another talking point. The Global Commission on Aging and Transamerica Center for Retirement Studies conducted research that revealed that infrequent travellers suffer a significantly higher risk of developing heart disease – in case of men that risk rose by 30%!
Reinforces Relationships
There's nothing quite better than travelling to get to know someone. How people react in the face of the unknown says a lot about who they are as a person. Also, travelling together forces intimacy; people who are constantly on guard against becoming close or those who keep their true selves concealed under an assumed persona are usually forced to reveal themselves. Travelling together also involves teamwork of sorts; there are many compromises to be made. Partners in travel must trust each other to guard their backs. When friends, families or lovers travel together it's usually because they share some common interest in the place they're about to visit. The joy of discovering something new together brings them closer. Furthermore, shared experiences also have a way of connecting people through memories.
As they say 'You cannot be old and wise if you are not young and crazy' – absolutely right ain't it?!