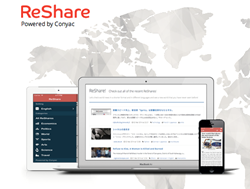 Tokyo, Japan (PRWEB) May 09, 2014
ReShare enables users to spread international news they found interesting in different languages using up to 720 characters. ReShare offers a wide range of categorized articles, focusing on "economy", "politics", "international affairs" and "lifestyle". The news posts are compact, informative and available in multiple languages, allowing users to re-post them easily on Twitter, Facebook and Line.
anydooR.inc. has started providing ReShare in an aim to stimulate communication and bring otherwise inaccessible news to different parts of the world. It plans to enable its users to request ReShares of foreign news articles they wish to read easily and efficiently. ReShare will strive to provide valuable content and link Conyac users with people who are interested in worldwide happenings. It is currently looking to collaborate and build partnerships with global media providers.
The ReShare app is free and available on the Android Store and Apple store.
About the Crowd-sourced Translation Service Conyac
Conyac is a fast, affordable and accurate human translation service that uses crowd-sourcing concepts to bridge the language communication gap between people around the world. Specialized in e-mail, e-commerce and news translation, as well as app and website localization, it offers translations into 66 languages through its growing user base of over 15,000 translators.