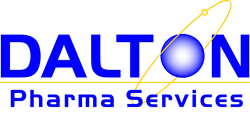 "We look forward to providing continued support for the work of the NMRC and University of Guelph in the research and development of novel vaccines"
Toronto, Ontario (PRWEB) May 08, 2014
Dalton Pharma Services, a privately owned pharmaceutical services provider to leading pharmaceutical and biotechnology companies, today announced that Phase I clinical trial plan utilizing cGMP sterile conjugated vaccine against Campylobacter jejuni has been approved by the U.S. Food and Drug Administration (FDA). The vaccine, which was jointly developed by the Naval Medical Research Center (NMRC) and Prof. Mario Monteiro (University of Guelph), was produced in lyophilized vial form by Dalton under contract with The Henry M. Jackson Foundation for the Advancement of Military Medicine, Inc. (HJF). The project was funded through a National Institute of Allergy and Infectious Diseases (NIAID) grant awarded to Dr. Patricia Guerry. Dr. Guerry is a Microbiologist specializing in Campylobacter research at the Naval Medical Research Center (NMRC).
Under the contract with HJF, Dalton scaled up the conjugation and purification process of the protein conjugate vaccine, aseptically filled the vaccine into vials and lyophilized them.
Approval for the Phase I challenge study with the vaccine was received from the U.S. FDA in February, and the human subject analysis phase started April 21, 2014. Phase 1 studies are expected to continue through January 2015.
According to the U.S. Centers for Disease Control and Prevention (CDC), Campylobacter, especially C. jejuni, is a leading cause of bacterial diarrheal worldwide. In the US, it is estimated to cause 1.3 million human illnesses every year. These illnesses frequently occur as a result of travel, and are popularly referred to as "Travelers' Diarrhea". The diarrhea is frequently bloody, and is accompanied by abdominal pain and fever, and occasionally nausea and vomiting. No vaccine is currently available.
"We at Dalton are very proud to have played an important role in the achievement of this milestone," commented Peter Pekos, President and CEO. "We look forward to providing continued support for the work of the NMRC and University of Guelph in the research and development of novel vaccines."
About Dalton:
Dalton Chemical Laboratories Inc. o/a Dalton Pharma Services is a GMP contract pharmaceutical manufacturer that supplies chemistry, analytical and formulation development services to the biotechnology and pharmaceutical industries in the areas of chemistry, medicinal chemistry and fine chemical manufacture. Dalton provides cGMP manufacturing of solid dosage forms and aseptic filling services to its customers at any stage of the regulatory process (Phase I, II, III or commercial). In its modern cGMP facilities, Dalton produces active pharmaceutical ingredients at the gram or kilogram scale. Dalton conducts aseptic fills to produce batches of finished drug product in vials or syringes, either aseptically filled or terminally sterilized, under fully validated conditions. In addition, Dalton's analytical chemistry laboratory offers method development, validation and ICH stability programs to its clients.
Further information can be found at http://www.dalton.com.
About HJF:
The Henry M. Jackson Foundation for the Advancement of Military Medicine, Inc. is a private, not-for-profit organization established in 1983 and authorized by Congress to support military research and education at the Uniformed Services University of the Health Sciences and throughout the military medical community. Its research support and administrative capabilities allow military medical researchers and clinicians to maintain their scientific focus and to accomplish their goals in a timely and cost effective manner. For more information, visit http://www.hjf.org.
About Professor Monteiro:
Mario A. Monteiro is a Full Professor in the Department of Chemistry at the University of Guelph. His groundbreaking research aims to protect both people and animals from serious disorders. He is developing sugar-based vaccines against gastric pathogens, such as Campylobacter jejuni, which causes travelers' diarrhea; Helicobacter pylori, which causes gastric cancer; and Clostridium difficile, which causes antibiotic-associated diarrhea. For more information, visit http://www.uoguelph.ca/~monteiro.