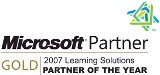 IT professionals will gain a greater understanding of the capabilities of VMware vSphere and how to use network file system (NFS) storage and save their organizations money and time.
New York City, NY (PRWEB) May 12, 2014
Information technology professionals have the opportunity to learn about using NFS storage with VMware vSphere with certified professional and datacenter virtualization expert, John Borhek, at a free interactive webinar being hosted by NetCom Learning, the experts in technology training. The complimentary webinar will be offered Thursday, May 8, 2014 from 1:00 to 2:00 PM EST. VMware vSphere is a cloud computing virtualization operating system that was developed by VMware. Utilizing NFS within VMware can be an alternative to Enterprise SAN storage that is cheaper and easier to use and allows for the use of advanced features such as vMotion, HA, and DRS..
"IT professionals will gain a greater understanding of the capabilities of VMware vSphere and how to use network file system (NFS) storage and save their organizations money and time," said Russell Sarder, CEO of NetCom Learning.
VMware vSphere is an operating system that harnesses virtualization to help datacenters create cloud computing infrastructures efficiently offering reliable cloud technology services to their organizations and customers. The system allows IT datacenters to manage large networks and storage in a cloud computing virtualization system.
In this session, we will cover:
NFS is Inexpensive
NFS is Supported by VMware for all versions of vSphere
NFS is an alternative to expensive Enterprise SAN storage
NFS is easy to use
NFS facilitates advanced features like: vMotion, HA, and DRS
Q&A with John
Webinar Speaker
The featured speaker for the interactive webinar is John Borhek who has over fifteen years as an information technology professional. His specialty is Datacenter Virtualization with a focus on VMware vSphere, vCenter and View. John's clients have included Siemens, Boeing, and the City of New York, for which he has provided documentation creation, training materials and change management procedures for the virtual environment. John holds a variety of VMware certifications including VCP 3 4 5, VSP and VTSP.
Register Now for the VMware Vsphere complimentary webinar.
Benefits of taking technical training with NetCom Learning
NetCom Learning is the most trusted name in both business and IT training and offers top notch instructors with an average of 16 years of experience and vendor approved coursework offering certification preparation for a variety of vendor certifications. NetCom Learning instructors routinely achieve high ratings from their students and possess an average of 20.5 years of experience and a cumulative average of more than 10,500 years' experience in the field of their expertise. Instructors carry an average instructor evaluation of 8.6 out of 9, one of the highest instructor evaluations in the industry. The high quality of training has resulted in over 2,150 testimonials and a 96% customer satisfaction rate with those customers indicating they would recommend NetCom Learning to others.
For more information on current NetCom Learning webinars, call 1 888-563-8266 or visit http://www.netcomlearning.com/webinars.
About NetCom Learning
NetCom Learning is an innovative leader in IT, business and executive training to companies, individuals, and government agencies. Since its inception in 1998, NetCom Learning has trained over 71 percent of the Fortune 100, serviced over 50,000 business customers, and advanced the skills of more than 81,000 professionals through hands-on, expert-led training, with the organization maintaining an average instructor evaluation score of 8.6 out of 9. NetCom Learning was recognized by Microsoft Corporation as its Worldwide Training Partner of the Year and named thrice to Inc. Magazine's list of fastest growing private companies in
America. The organization was also recently named to the 2012 Top 20 IT Training Companies by TrainingIndustry.com and was named "Company of the Year" by the American Business Awards.
Like us on Facebook: https://www.facebook.com/netcomlearning.
Follow us on LinkedIn: http://www.linkedin.com/company/netcom-learning
The purpose of NetCom Learning is to promote the values of lifelong learning.