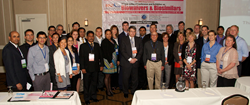 Current Challenges and Opportunities in Cost Effective and Affordable Biosimilars
Los Angeles, CA (PRWEB) May 08, 2014
Biosimilars-2014 is the best platform for Pharma, CMOs, CROs, research institutes, investors and industry stakeholders to discuss current industry trends and to establish business partnerships and it is taking place in collaboration with the Doctor of Pharmacy Association (DPA) and Patent Agent Association (PAAI).
Key Speakers at Biosimilars-2014 included: Dr. Russell Reeve, Quintiles Inc., USA; Dr. Arturo Solis Herrera, Human Photosynthesis Study Center, Mexico; Dr. Rodeina Challand, PRA International, UK; Krishna Menon, Cellceutix Corporation, USA; Steven Lehrer, Optimal Strategix Group, Inc., USA; James Shehan, Hyman, Phelps and McNamara, P.C, USA; Ganesh Kumraj, BioBridge Healthcare Solutions Pvt. Ltd, India; Manish Mahajan, Lupin Limited, India are encouraging present annual conference Biosimilars-2014 by their outstanding experience of exchanging their ideas in previous meetings.
Important tracks that are part of the OMICS Group's Biowaivers & Biosimilars conference include, Challenges and Regulatory Approach for Biosimilars, Emerging Biosimilars in Therapeutics, Clinical Studies and Clinicians Prospects for Biosimilars, Globalization of Biosimilars, Biosimilars Innovator Pharmaceutical Products, Analytical Strategies, Bioequivalence Assessment, BCS and IVIVC Based Biowaivers, Plant Produced Biosimilar Products Pharmacovigilance and its Challenges, and Intellectual Property Rights.
Reputed personalities in the academic, research and the corporate fields include, Daniel Galbraith, UK; Krishna Menon, USA; Noelle Sunstrom, Australia; Rodeina Challand, UK and Steven Lehrer, USA are part of the Biosimilars-2014 Organizing Committee Members Dr. Shivraj Dasari, CSO of Cell Culture Technologies Pvt. Ltd, India conducts a workshop on 'Biosimilars in Emerging Markets: Regulatory Considerations'.
OMICS Publishing Group publishes 350 online open access journals in the clinical, medical and life sciences including management, engineering, technology, and pharmaceutical fields with an aim to provide healthcare information free from the copyright barriers and organizes over 100 International scientific conferences across the globe annually. OMICS Group enjoys the support of a strong 30, 000 members in the editorial team with a readership of 3.5 million.
OMICS Group 'Young Researchers Forum' offer the budding researchers in their early career a chance to meet the veterans to discuss research topics and methodologies, share and develop ideas, learn from each other, and gain knowledge.
Young Researcher Sessions are organized at the Biosimilars-2014 provides a unique platform for the Young Researchers/Investigators to present their latest research projects with an in-depth analysis. Poster Competition meant for the student at OMICS Group Meetings encourage them to present their original research works.
All the abstracts that are through the organizing committee will be published as proceedings in the OMICS Group Journal of Bioequivalence & Bioavailability and the Journal of Bioanalysis & Biomedicine.
While FeF Chemicals, Denmark that manufactures and supplies high quality products in the area of Biopharm exhibits its products, reputed agencies and service providers like BioPortfolio, Lab Bulletin, Asia Pacific Biotech News (APBN), Clocate.com, Medical News Today (MNT), Gate2Biotech, GBI, The PharmaTimes, The SME Times, Farmavita Net, FarmavitaR+, and RevolutionPharmd.com are acting as media partners for this conference.
To know more details about our conference, please follow the link: http://www.pharmaceuticalconferences.com/biowaivers-biosimilars-2014/.
For any queries contact us at:
Lakshmi Padmini
For Biosimilars-2014 Organizing Committee
Pharmaceutical Conferences
2360 Corporate Circle
Suite 400, Henderson
NV 89074-7722, USA
Phone: +1-888-843-8169
Fax: +1-650-618-1417
Toll Free: +1-800-216-6499
E-mail: biosimilars2014(at)omicsonline(dot)us
Connect by LinkedIn: in.linkedin.com/in/biosimilars2014/