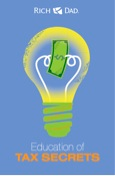 Taxes are not fair. They favor those with financial education.
Cape Coral, FL (PRWEB) May 08, 2014
Rich Dad Education, a leader in financial training, is offering the Rich Dad Education on Tax Secrets eBook on Amazon for free on May 9, 10, and 11. Since the average American works over four months out of the year just to cover their tax obligation, it's time they discover how to use the tax code to their advantage.
The majority of people have been trained to send their money to the government. The harder they work, the more they pay in taxes. This free eBook will help individuals better understand how they can make the tax laws work in their favor.
Bestselling author and noted investor Robert Kiyosaki says, "Taxes are not fair and taxes do not try to be fair. Taxes favor those with financial education. Those with financial education can earn more and pay less, even zero taxes, on millions in earnings. It's not fair, but you do not have to be rich to benefit, you have to be educated."
People can actually earn more and still pay less in taxes by understanding what the government wants and needs. This is the power of financial education. With it, a person can discover how to make the tax laws work in their favor. These are not loopholes. Rather, they are incentives created to reward business owners and investors for taking specific action.
Since childhood, most people have been taught that in order to earn more money, they have to work harder. By reading the Tax Secrets eBook, people will discover a new way to view money and taxes. They will understand that the harder their money works for them, the less they will pay in taxes.
To help people discover how it's possible to use taxes to create wealth and build assets, Rich Dad Education encourages everyone to download a free copy of the eBook Rich Dad Education on Tax Secrets on Amazon during the special promotion on May 9, 10, and 11. People are also encouraged to share the wealth and tell their friends and family members about the eBook during the special promotion.
About Rich Dad Education Inc.:
Rich Dad® Education Inc. has been a leading provider of educational training seminars, conferences, and services for over twenty years, based on Robert Kiyosaki's international bestseller and the #1 personal finance book of all time, Rich Dad Poor Dad. The company provides students with comprehensive instruction and mentoring in real estate and financial instruments training in the United States, Canada, and the United Kingdom. Our seminars are avocational in nature and are intended for the personal enrichment and development of our students. To begin your journey to financial success, visit http://www.richdadeducation.com.