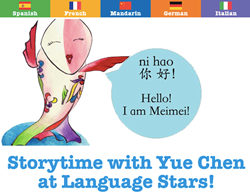 Chicago, IL (PRWEB) May 09, 2014
WHAT: Language Stars, the national leader in early childhood foreign language education with locations throughout the Chicago, Washington DC, and Baltimore metropolitan areas, will host a free interactive Storytime with Yue Chen, author of "Meimei – A Beautiful Fish." Featuring games, an online puppet show/audio resources, and a take-home activity, the former Language Stars teacher will use her new book to fully immerse children in the Chinese language.
WHY: Yue Chen wrote and illustrated 'Meimei Story' to provide parents with a resource to reinforce the teaching of Mandarin Chinese to children. The first in a series, "Meimei – A Beautiful Fish" teaches children colors in Mandarin using illustrations and games.
"From my time as a Language Stars educator, I learned that having fun with the language learning process is the key to success for children," said Yue Chen. "My book was created based on the idea of being interactive, being simple, and being fun! I hope families in the Chicago area will come to my Storytime to learn Mandarin in an enjoyable and approachable way."
WHERE/WHEN:
Hinsdale Language Stars Center, 133 East Ogden Avenue, Suite LL1, Hinsdale, IL
630-321-1060
Wednesday, May 14, 12:00-12:30 p.m.
Naperville Language Stars Center, 116 West Gartner Road, Suite 104, Naperville, IL
630-357-3700
Saturday, May 24, 11:00-11:30 a.m.
Wheaton Language Stars Center, 410 N Cross Street, Wheaton, IL
866-557-8277
Wednesday, May 28, 10:15-10:45 a.m.
Wilmette Language Stars Center, 335 Ridge Road, Suite D-2, Wilmette, IL
847-256-8000
Saturday, May 31, 12:15-12:45 p.m.
WHO: Recommended for ages 1-6, but all ages are welcome. Language Stars families, friends, and siblings are all invited.
RSVP: To RSVP, call your local Language Stars Center (phone numbers above). Parent or caregiver must be present for all ages.
About Yue Chen: Yue Chen is an artist, illustrator, and former Language Stars Mandarin instructor with many years of experience teaching and tutoring English-speaking children in Mandarin Chinese. Chen published her first book in a children's book series Meimei Story, "Meimei – A Beautiful Fish," in December 2013. Meimei Story is an interactive children's book series that includes online audio and video resources, vocabulary pages, a gamecard page, a coloring and character tracing booklet and more. It's not only a Mandarin teaching tool, but also a full-color children's book that is fun!
About Language Stars
Language Stars, the national leader in early childhood foreign language education, teaches foreign language classes for kids between the ages of 1 and 10 years old focusing on the window of opportunity between birth and 10 years of age when a child's brain is hardwired to learn any language naturally and easily. Their mission is to change how and when children learn a foreign language to foster a new generation of multi-lingual Americans. Language Stars has 25 locations in the Chicago, Washington D.C. and Baltimore areas and is in 150 public, private and parochial schools, including preschools, elementary schools and middle schools. Language Stars currently reaches over 10,000 toddlers, preschoolers, and elementary students each week, helping them move toward proficiency in a foreign language, build cognitive skills and become sensitive to new cultures.
Language Stars has 15 locations in the Chicagoland area including Arlington Heights, Barrington, Chicago/Andersonville, Chicago/Hyde Park, Chicago/Lincoln Park, Deerfield/Lake Forest, Hinsdale/Oak Brook, Naperville, Wilmette/Evanston, Crystal Lake, Geneva/St. Charles, Homewood/Flossmoor, Orland Park, Park Ridge and Wheaton. For more information, visit http://www.languagestars.com.
Contact: For additional information about Language Stars or to speak with Leslie Lancry, founder of Language Stars, contact: Amy Clark at amy(at)mtomconsulting(dot)com or call 917.648.5577.