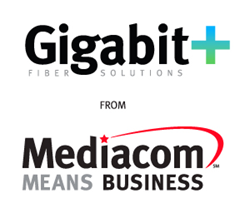 (PRWEB) May 08, 2014
America's heartland is fast becoming a hub of new economic development, fueled by broadband expansion like Gigabit+ Fiber SolutionsTM from Mediacom Business. Municipalities like Grimes, Iowa, located on the outskirts of Des Moines, are boasting about their high-tech capabilities to attract major corporations, revitalize existing businesses, and bring high-quality jobs to their community. To achieve these goals, the Grimes business community found a solution by connecting to the Mediacom Business fiber-optic network, according to Dan Templin, Senior Vice President, Mediacom Business.
Speaking at the recent Annual Convention of the National Cable & Telecommunications Association in Los Angeles, Mr. Templin said, "While companies like Google are touting their ability to build these networks, our fiber-optic network is already in place and delivering speeds of one Gigabit and beyond. Mediacom Business customers of every size and scope are conducting their online business all-day, every day, over our proprietary, fiber-optic network."
Mr. Templin cited the City of Grimes, Iowa as an example of Mediacom Business providing their Gigabit+ Fiber SolutionsTM to America's heartland.
"The City of Grimes, located on the outskirts of Des Moines, is home to about 400 businesses, primarily small and medium-sized companies," according to Brian Buethe, Executive Director of the Grimes Chamber & Economic Development, a local membership organization dedicated to expanding the business community. "No matter the size of the company, one of the first questions they will ask in looking to locate here is about broadband capability. It's critical they have scalable and reliable access, and we have the answer with partners like Mediacom Business," Mr. Buethe said.
"The Silicon Prairie is more than a concept. We've made it a reality," Mr. Templin said. "Increasingly, Central Iowa is attracting attention from IT companies, web developers, call centers, and data centers who demand the reliability, speed and redundancy of a high-capacity fiber network. We're especially proud to be an industry leader in providing broadband connectivity to rural America, solely with private investment."
Mr. Templin said the win-win partnership with the City of Grimes is reflective of similar Mediacom Business initiatives in other parts of the country. "Mediacom has invested more than $2.5 billion over the past 10 years to provide 100% fiber-optic solutions to businesses, municipalities, schools, healthcare facilities, and other community anchor institutions."
About Mediacom Communications
Mediacom Communications Corporation is the nation's eighth largest cable television company and recognized leader in serving rural America. Mediacom Communications offers a wide array of information, communications and entertainment services, including video, high-speed data and phone, and also provides innovative broadband communications solutions through its Mediacom Business division that can be tailored to any size business. Mediacom Communications' advertising sales and productions services are sold under its OnMedia division.
More information about Mediacom Business is available at business.mediacomcable.com. To view a video about the Grimes/Mediacom Business partnership and learn more about Mediacom Business, go to business.mediacomcable.com
Contacts:
For Mediacom Business: David Andersen, 404.514.0424, info(at)mediacomcc(dot)com
For The City of Grimes, Iowa: Brian Buethe, 515.577.3370, brianb(at)ci(dot)grimes(dot)ia(dot)us