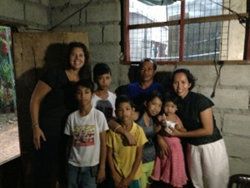 For a family that has so little, adding a floor to a house is truly a miracle and they will never forget it.
(PRWEB) May 09, 2014
Pearls with Purpose, a nonprofit organization dedicated to helping women and children in impoverished countries, is working on a project to help the Nebrida family who live in the Philippines. Pearls with Purpose has recently been chronicling the journey of a Philippine woman, Nanette Nebrina, and her family on their path to self-reliance. A decade ago at the birth of her fifth child the family was so destitute that she tried to give away her baby so that they could all survive. That is when she happened upon Pearls with Purpose, where she obtained work and earned the money to feed her children. Back then, the Nebrida family lived in a 100 square foot shack built above another shack. Two years ago the dwelling was deemed unsafe by the government and was flattened along with the rest of the surrounding squatter's homes.
Nanette and her family gained permission to rebuild in the same area and qualified for a home building assistance program. They were able to build a 20 x 20 cinderblock structure consisting of exterior walls and tin roof. The house was built with a high ceiling so the family could someday add a loft area to their small home.
Currently, Nanette, her husband, and their three-year-old daughter sleep on a piece of cardboard that they fold and slide under a bench during the day. Their other six children sleep side by side on a single top bunk behind a draped blanket. The bottom bunk serves as a closet to hold all the families' clothing. Adding a ladder and upper floor space to their home would provide a sleeping area for the children and the parents could move to the bunk.
"Our resources are limited," says Wendy Bird, the founder of Pearls with Purpose, "but after our recent visit to their humble quarters we promised ourselves that we would somehow find a way for them to finish their home." According to Bird, $1800 US dollars would pay for supplies and labor to build the loft for sleeping. "That might not seem like a lot, but it is an impossible amount for a humble family in the Philippines," Bird says.
Today Nanette, is still a jewelry maker for Pearls with Purpose. All of her ten children have, or are, attending school. Her husband is hard working and has skills to assist with the upgrade of their home.
Pearls with Purpose has established a Fundly fundraiser to help raise the $1800 for this family to finish their house. Bird adds, "For a family that has so little, adding a floor to a house is truly a miracle and they will never forget it. Nanette did not ask for this nor would she dream someone was actually working to raise money for her family. When this project is funded and subsequently completed, it will be like a miracle to the entire Nebrida family." Pearls with Purpose is seeking for others to help in raising the funds and has set a goal date of June 14th. They will be delighted with any financial help offered, whatever the amount. Please go here or Pearls with Purpose's website to donate and learn more about the organization.