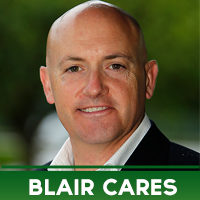 I will seek public input and make decisions that bring the most benefit to the Langley community.
Langley, BC (PRWEB) May 08, 2014
Blair Whitmarsh has been involved in the Langley community through youth soccer, the Langley Events Centre, and Christian Life Assembly for many years and is looking forward to further entrenching his passion for community. As a member of Township Council, Whitmarsh will rely on his experience as an educator, senior administrator, and mental skills coach.
The theme for his campaign is "Working Together for Langley" which signals his belief that all citizens of Langley should have a voice in the future shaping of our community. "A primary task of Council is to raise community involvement so that Langley can continue to be a place that we are all proud of and want to raise our families" said Whitmarsh as he launched his campaign website. "We must hear from the community as we make critical decisions that affect all of us".
The campaign will focus on five overarching themes: smart and sustainable development, safe neighbourhoods and communities, a great place to raise our families, outstanding facilities for sports and the arts, and being fiscally responsible. "I have lived in Langley for 18 years and there is no other place I would rather live. We must work together to develop our community in a sustainable way. Economic development, environmental enhancements, and keeping tax increases to the rate of inflation help us to shape a Langley that we can all be proud of. Langley is about all of us".
"I have known Blair Whitmarsh for many years both as a friend and member of our community," states Lyle Kirby, President of Walnut Grove Glass and Aluminium Ltd. "The work Blair has already done to improve our community combined with his honesty and integrity gives me confidence that he will be a positive and productive voice on Langley Township Council."
Whitmarsh is committed to bringing a team-building approach to council characterized by strong communication and the ability to think through issues with wise counsel and strong community input. "I will seek public input and make decisions that bring the most benefit to the Langley community".
The Whitmarsh campaign office has selected the services of jambMEDIA (http://www.jambmedia.com) to communicate Blair's views through the use of frequent podcasts and connect to media savvy voters in Langley through the use of social media.
About Blair Whitmarsh
Blair Whitmarsh arrived in Langley as a first year student at Trinity Western University some 30 years ago and fell in love with the township of Langley. He has lived with his wife, Lorraine, and three daughters, Karina, Jolayne, and Tana, who have also been active in the community for most of the time since.
Since earning a PhD in sports psychology, Blair has had a distinguished career as a professor at Trinity since 1996 and has been the Dean of the School of Human Kinetics and Athletics since 2005. He helped in the design and development of the Langley Events Centre. Blair is a professional member of the Canadian Sports Psychology Association and has consulted with athletes and teams for more than 20 years. He is currently completing a MBA and will be awarded the degree in August 2014.
As a volunteer Blair has coached minor soccer and serves on both the board of a private school in White Rock BC and the Canadian Sports Institute Pacific. He has been a home group leader at the Christian Life Assembly where he is an active member.
Blair is seeking a seat on the Council out of pride in his community. He wants to bring his education, work experience and experience in community involvement to benefit Langley.
For more information and campaign updates, visit the Blair Whitmarsh campaign page at blairwhitmarsh.com (http:http://www.blairwhitmarsh.com), on Facebook at facebook.com/ BlairWhitmarsh and on Twitter at @BlairWhitmarsh .
About jambMEDIA
jambMEDIA is a privately held company located in Surrey, BC, Canada. It develops, markets and distributes its communication services to customers across Canada and the USA. The primary service is a fully turnkey weekly podcasting offering. All services are developed, owned and trademarked by the company. It operates dedicated web sites under the jambMEDIA banner to uniquely deliver LocalWebRadio (http://www.localwebradio.fm ), The School of Internet Marketing (http://www.theschoolofinternetmarketing.com ) and smartLOCAL360 (http://www.smartlocal360.com ) Professional Services.