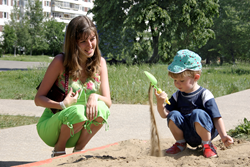 Instead of your child getting on the daycare's routine, the nanny hops on your child's routine.
New York (PRWEB) May 13, 2014
Attention and Routine
While daycare centers can provide adequate care for children, having a nanny means one-on-one attention from someone who often becomes like a part of the family. They learn your routines, and can work with your schedule – and your child's. "The consistency for your child of having the same person care for them day in and day out will greatly benefit them," says parenting expert Jennifer Chung, a mom and co-founder of Kinsights.com.
Indeed, with a nanny, your child will follow the established routine that is best for them – and not impacted by a daycare schedule. "Instead of your child getting on the daycare's routine, the nanny hops on your child's routine. This way, your child develops and grows at their rate, naps when is best for your family, naps and plays in their own home and learns to respect your rules and property," says Chung.
Socialization
Worried about your child missing out on socialization? Daycares can provide opportunities for kids to play with other children but the level of socialization there may not be what you are expecting. Zoe Gillispie, a child psychologist who works in Private Practice in Palo Alto, California, says that young children benefit most from interacting with people who are older than them. "Generally, infants and toddlers need quality adult supervision, role modeling and attention in order to learn and master appropriate social skills. Very young children learn best from adults and older children," says Gillispie. Since many daycares separate kids by age, your child likely will be surrounded by children who are the same age and won't have the opportunity to learn from older children in a daycare.
By contrast, when you have a nanny, your children have the opportunity to participate in hand-picked activities that can bring them into contact with a variety of children and adults of all ages. "Children can still participate in outside activities. A nanny will take them to gymnastics or ballet, or participate in music and swimming lessons. They will engage in playgroups, take trips to the zoo and run around at parks," says Chung.
Sickness? No Worries
Ever wonder what happens when a child who attends daycare gets sick? Mom or Dad has to stay home and care for them – daycares don't welcome children who are under the weather. But a nanny is different. Since there isn't a risk of spreading the germs to other kids, usually you needn't worry about the what-to-do question.
"Depending on the sickness, your nanny may not care (or it may be written in their contract) and you are still able to go to work despite having a sick child. Plus, your child won't be exposed to all the other germs and illnesses floating around a daycare," says Chung.
Finding the Right Nanny
Having a nanny can be a wonderful experience for both parents and children. And once you've decided that's the route for you, choosing one is the next step. "Although it may be a painful, laborious process, you are ultimately in charge of who watches your children. You conduct the interviews, you set the rules, you write the paycheck. This also allows you to really get to know your nanny on a professional and personal level," says Chung.
Take as much time as you can, and choose the right person. Also, it helps to have a little assistance with the process. "If you go the nanny route, it might be ideal to find a professional nanny placement agency that offers some screening and/or training services," suggests Gillispie.
Another asset that a good nanny can bring to your child is the ability to be bilingual from birth. While searching for your nanny, you can also specify whatever language you would like your child to learn while under their care. In today's global economy, being bilingual is so important.
But Doesn't It Cost a Lot?
Anyone who has ever looked into daycare knows that it's not cheap. While prices vary among cities and states, it can be a costly thing to have children in daycare. And the more kids you have, the more you pay. By contrast, a nanny can actually be a cost-saver as well. And better yet, your children can grow up together before they are in school in separate grades.