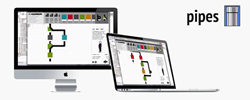 (PRWEB) May 10, 2014
The need to learn computer programming has never been greater.
Nearly 9 billion devices are connected to the Internet and more than two-thirds of American workers use computers. Enrollment in software courses has increased by 29 percent in 2014. Even with this surge, student enrollment in software development programs would need to triple just to meet current job demand in the United States.
"But there is no suitable way to learn programming," pointed out Sam Boychuk, a computer expert in New Zealand. "We've been teaching computer programming for 30 years and I've yet to see one tool that can teach anyone how to program."
So Boychuk has developed "Pipes," the world's only on-line programming teaching tool that does not require instruction from someone with a computer science degree. The creation of 12-24 basic modules allows "Pipes" to highlight the core principles of programming so that a student can walk away from Pipes with a clear understanding of basic computer science principles.
"This teaching tool will open up a world of possibilities for those who want to work in the computer industry," said Boychuk. "In a world that demands technology jobs, we feel it is our responsibility to make programming available to everyone.
"No longer is a career in development only available to the privileged or the fortunate. We are here to make our new technology landscape open to all."
Transforming "Pipes" from concept to a full teaching suite requires additional funding. Boychuk estimates that he'll need $32,200 for technology infrastructure (log-in services, content distribution networks, web hosting) as well as administrative costs (design, legal expenses, education board communications) and computer supplies.
To generate this capital, Boychuk has launched an Indiegogo campaign that can be viewed at http://www.learnpipes.com. Donations of an amount are welcome. Contributions of $25 and more are eligible for perks that include access to "Pipes," T-shirts and a business name on the "Pipes" site.
"Our research shows that there is nothing on the current market that even approaches what 'Pipes' offers," Boychuk said. "We want to take this tool and revolutionize the way programming is taught."
About 98 percent of computer science students seek some type of independent study prior to formal education in the field. "'Pipes' makes independent study possible for all," said Boychuk.
For further information, visit http://www.learnpipes.com or contact Boychuk directly at info(at)learnpipes(dot)com.