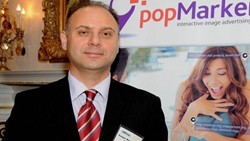 Clearly thanks to the LISA we are on the right path to reinventing display advertising.
Glen Cove, NY (PRWEB) May 13, 2014
PopMarker, the Glen Cove based company behind the trend setting online marketing tool for publishers and advertisers, today received a Long Island Software Award, known as a LISA. The prestigious award is presented by the Long Island Software and Technology Network (LISTnet) honoring Long Island-based companies producing outstanding software and services for products.
This year will be the first year in which the award will honor both leading software companies and start-ups based in Long Island. "Here at PopMarker we are beyond honored to be one of the recipients of the Long Island Software Awards," said Sarper Kocabiyik, CEO and Founder of PopMarker. "It is a distinct source of pride for our organization. Clearly thanks to the LISA we are on the right path to reinventing display advertising."
While PopMarker's headquarters is located in Long Island, the company already operates on an international level with an office in Istanbul, Turkey. The company already has partnerships with companies like Little Cearsar's, Turkish Airlines, Volkswagen, MediaMarkt, Tchibo, and MedyaNet,Turkey's leading online advertising-marketing firm.
About LISTnet:
The objective of LISTnet is to promote Long Island as one of the national centers of excellence for Software and Technology solutions. This is achieved by facilitating collaborations between companies, establishing forums and events for the exchange of information, improving the quantity of the labor force and partnering with companies that provide the High technology Centers necessary for the growth of L.I. software and technology companies.
About PopMarker:
PopMarker is an Interactive In-Image Advertising Platform for publishers and advertisers. The company's vision is to become a leading provider of global image-based software applications. Our experienced team of technological innovators is dedicated to providing exceptional value for our publishing and advertising clients while offering web users and consumers state-of-the-art interactive applications that allow them to shop, surf, comment and network directly from an online image.