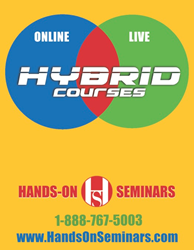 'We are proud to bring this high level of training and certification to students around the world,' said Konstantine Rizopolous, PT, DPT, FABS, and Co-Founder of Hands-On Seminars.
Astoria, New York (PRWEB) May 11, 2014
The use of ultrasound in the diagnosis of musculoskeletal problems is a vital tool for the physical therapist. However, in order to use this device to get the best results for their patients, the physical therapist must be properly trained in the related techniques and protocols. The type and quality of this education are, obviously, of paramount importance to both the PT and his or her patients.
Hands-On Seminars, in partnership with Dr. Randy Moore, DC, RDMS, is producing a continuing education certification course on Musculoskeletal Ultrasound Techniques and Applications for physical therapists.
Participants in the course will learn the techniques and protocols of performing proper musculoskeletal ultrasound examinations to the knee, shoulder, elbow, wrist, ankle and foot and to identify the ultrasound appearance of common pathologies of these extremities.
The unique course design and presentation offers physical therapists the opportunity to become confident in their understanding and use of ultrasound in the diagnosis of musculoskeletal problems. With part of the course offered online and part in live workshops, the PT has the opportunity to learn part of the course at his or her own rate and time frame. The other portion, the live workshops, will then offer the practical experience in application.
The combination of online study and live workshops results in better performance and interpretation of MSK, ultrasound examinations and more certainty in diagnosis and treatment.
Randy E. Moore is a Doctor of Chiropractic and a Registered Diagnostic Medical Sonographer. Since 1994, his work has focused entirely on using diagnostic ultrasound to evaluate the musculoskeletal system. Ultrasound manufacturers and teaching institutions throughout the United States call upon Dr. Moore's expertise.
Hands-On Seminars, Inc. (HOS) is the leading international continuing education organization in the world, awarded the Lecture & Seminars Award as the best Lecture and Seminar Company from the Lectures and Seminars Bureau over the past two years. Their purpose is to provide the best quality Manual Therapy seminars at an affordable cost.
For more information about this training program, please contact Emily Tabolt at 888-767-5003 or info(at)handsonseminars(dot)com.