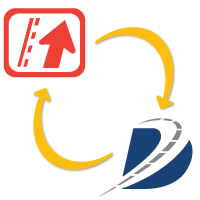 Clearwater, FL (PRWEB) May 15, 2014
SmartLane is a service app that provides mobile access to key information in AutoLoop's Book scheduling software, streamlining the service lane check-in process and making inspections easier, faster and more reliable. Dealer Tire is the only national firm exclusively dedicated to helping original equipment automobile manufacturers design, implement and manage profitable tire programs for their dealerships.
"SmartLane is a powerful and useful tool for the dealership," said Matt Rodeghero, AutoLoop Chief Product Officer. "Integrating with the Dealer Tire software adds another facet of functionality and another service that dealerships can offer their customers."
According to Rodeghero, Dealer Tire software is accessed during the vehicle inspection. If the tires are found to be worn, cracked, or otherwise in need of attention, SmartLane seamlessly provides all relevant options from the Dealer Tire site, including recommended replacement tires, pricing, current rebates and incentives. Results are then added to the SmartLane summary page.
"We're excited to work with another company that specializes in proactive automotive services," said Rodeghero. "Dealer Tire and SmartLane together are an effective solution that benefits both the dealer and the end user."
About Dealer Tire®
Dealer Tire's mission is to create extraordinary value through programs that make it easy and profitable for automotive dealers and OEMs to sell tires, accessories, services and parts. We seek to help our customers boost their retention rates by increasing the satisfaction, safety and loyalty of their customers.
About AutoLoop:
Since 2005, AutoLoop's commitment to "Retention Through Engagement" has helped automotive dealerships nationwide increase sales, improve client retention and achieve overall higher satisfaction ratings. With an all-encompassing platform that monitors customer DMS activity in real time, AutoLoop automatically triggers personalized custom messages through voice, email, SMS and direct mail to precisely targeted customers. As an Inc. 500 company tracking over 40 million dealership customers—with nearly a billion individual communications initiated—we're passionate about making AutoLoop America's best customer retention partner for progressive dealerships.