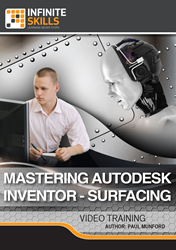 Learn Mastering Autodesk Inventor - Surfacing at your own pace
(PRWEB) May 11, 2014
Software training firm Infinite Skills Inc. last week introduced its "Mastering Autodesk Inventor - Surfacing," an advanced course teaching users how to apply the tools and techniques inside Inventor to create robust parametric surface models in this popular computer assisted design (CAD) program for mechanical engineers.
Autodesk Inventor is 3D CAD software used to create, visualize, and simulate mechanical products. Though many look to other programs for surfacing tools, this course demonstrates the dynamic surfacing tools inside Inventor itself.
Infinite Skills Mastering Autodesk Inventor - Surfacing Tutorial demonstrates how to use these powerful tools with a quick course including projects for applying the lessons in everyday design situations.
Mastering Autodesk Inventor - Surfacing | Training Video
Course author Paul Munford began his career as a woodworker, building sets for the movie and television industry. He later moved into the digital design world, eventually becoming an expert in 3D drafting. He has won the Manufacturing Community Achievement Award from Autodesk and is a member of the Autodesk Expert Elite.
Munford begins with a broad look at the concepts involved in creating surfaces.
The course then moves into the application of these tools, showing how to work with hard surface modeling primers, and sketching in both 2D and 3D.
From there, he begins demonstrating surfacing tools, explaining algebraic and NURBS surfaces, and how to use essential tools for trimming, filleting, and converting surfaces to solids, along with other tools.
Munford then closes with some detailed projects where users will learn to apply these tools in various real-life modeling situations.
"There are some great tools inside Inventor for surfacing, and we can do a really good job with them," Munford says.
"We'll begin right at the beginning with some concepts you need to know about surfacing and the terminology we use before stepping on to find out where those surface tools are inside Inventor."
Free demo videos and a full list of course contents can be found on the Mastering Autodesk Inventor - Surfacing training page of the Infinite Skills website:
http://www.infiniteskills.com/training/mastering-autodesk-inventor-surfacing.html
Infinite Skills offers its Mastering Autodesk Inventor - Surfacing Tutorial as a direct download from the company website at a retail price of $24.95. Though the compatibility of programs varies, all Infinite Skills titles and formats are compatible with both Mac and Windows operating systems, and shipping is available around the globe. Additionally, Infinite Skills tutorials are supported by project files which correspond to examples in the videos.
About Infinite Skills Inc.
A leader in the field of software training, Infinite Skills designs its courses on a task-oriented model, teaching complex skills by providing hands-on examples and guiding users as they carry out essential functions. Infinite Skills offers a wide range of software titles available as DVDs, digital downloads, and in iPad editions. Infinite Skills now offers a subscription service, providing access to all its training content for a monthly fee, keeping with company's aim of delivering professional training to customers anywhere they want to learn.