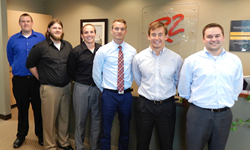 In a competitive market companies have to take any advantage they can get; we've created our own.
Jacksonville, FL (PRWEB) May 11, 2014
R2 Logistics, Inc., a Third Party Logistics service provider, today announced that its Customer Service Advisory Board met on April 28, 2014 for the first of their biannual meetings in 2014. Attending the meeting was a board member from each of R2's offices. These members included: Brian Woolum (Columbus, OH), Chris Narusas (Dallas, TX), Evan Mayernik (Detroit, MI), Jeff Schroeder (HQ), Shawn Wanner (Jacksonville, FL) and Corey Proffitt (Phoenix, AZ). Also in attendance was CEO, Ben Gase and Vice President of Operations, Matt Elsass.
Members at the meeting reported the customer service levels from their branch and topics that included: their top 5 customers, office strengths, areas for improvement and solutions to these areas. Collectively the board also discussed new ideas to enhance the customer service experience at R2 Logistics.
"Customer service is the foundation that R2 Logistics was built," stated Elsass. "In a competitive market companies have to take any advantage they can get; we've created our own. The Advisory Board meetings are a way in which R2 can innovate and implement ideas and processes that put the clients at ease, and keep their best interests in mind." Woolum, Customer Service Advisory Board Vice Chairman, added "quarter one's market gave us a chance to really diagnose the level of service we're providing our customers. Overall, I believe our team adjusted very well to the conditions. We will continue to produce the industry's finest service for our customers."
About R2 Logistics, Inc.
R2 Logistics, Inc. is a Third Party Logistics company named one of Forbes magazine's America's Most Promising Companies and headquartered in Jacksonville, Florida. The company works with over 30,000 transportation providers nationwide. R2 Logistics delivers industry-leading services through six primary operating branches. These branches focus primarily on full truckload transportation, as well as services including less-than-truckload (LTL), expedited freight, intermodal, certified hazardous material, specialized hauling and supply chain management. For more information about R2 Logistics, visit http://www.r2logisticsteam.com.