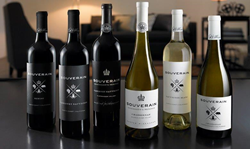 New Orleans, Louisiana (PRWEB) May 12, 2014
Two hotels of the New Orleans Hotel Collection proudly announce extraordinary wine dinners to be presented on Wednesday, May 21, 2014.
Several times per year, the hotels of the New Orleans Hotel Collection offer locals and overnight guests specially designed menus based on seasons, historic events, holidays or festivals. The chefs of the collection's kitchens have prepared incredible Christmas buffets, a historic 1812 Packenham's Last Supper celebrating the War of 1812, Spanish Wine Dinners, and exceptional Easter and Mother's Day brunches.
Now, in celebration of the New Orleans Wine and Food Experience, two of the hotels of the Collection have partnered with Stag's Leap, St. Clement Winery, and Souverain to create an evening of fine food and fine wine in fine surroundings. All dinners begin promptly at 7pm, and will include commentary from the vintner's representatives and an opportunity for guests to ask wine related questions. A cash bar for cocktails is available prior to each dinner.
At the historic Orleans Ballroom of the Bourbon Orleans hotel in the city's Vieux Care, chef Joey Wells will create a masterful meal, offering five courses beginning with oysters on the half shell; a rich and creamy lobster au gratin; grilled lamb "lolly pops"; shredded veal and spaetzle; and end with a delightful berry crème brulee and brie cheese plate. Seldom has a meal in the French Quarter sounded so delicious. Priced at an extraordinarily reasonable $125 plus tax and gratuity per person, the hotel is also offering discounted $10 valet parking for the evening at the entrance at 717 Orleans Avenue directly behind the St. Louis Cathedral.
For the complete menu and to make reservations, please visit http://www.bourbonorleans.com/nowfe. Reservations can also be made by calling Judy at (504) 571-4604.
At Hotel Mazarin's new La Louisiane, Chef Agnes Bellet, formerly the master chef at the famous Louis the 16th restaurant, has created a wonderful French menu pairing with the extraordinary wines of Souverain vineyards over five courses. The delectable selections from Chef Agnes include the traditional "amuse bouche" of salmon and caviar during cocktails, followed closely by a burrata and mushroom crostini; seared scallop and shrimp with Provencal sauce and tapenade; sautéed tenderloin of beef rossini, sauce perigueux, potato copeaux and seasonal vegetables; and finishing the fifth course with a dessert originated for French royalty in the 17th century: Merveille (French Beignet) filled with macerated berries and cream The wines start with a Souverain's Chardonnay, Merlot and Sauvignon Blanc, and end with Souverain's special reserve Cabernet. Offered at an all-inclusive price of just $135 per person including tax, service and all wines, this is a very affordable fine wine evening. Reduced price of $15 for valet parking is available at the entrance to the Hotel Mazarin. Entry to La Louisiane is at 725 Iberville Street. For Chef Agnes's complete menu and to make reservations, please visit http://www.hotelmazarin.com/nowfe.
About the New Orleans Hotel Collection
The New Orleans Hotel Collection is a group of seven splendid hotels in the New Orleans metropolitan region owned by local investors. Comprised of the Bourbon Orleans, Dauphine Orleans, Hotel Mazarin, Audubon Cottages, The Whitney Hotel, Crowne Plaza New Orleans Airport and Hotel Le Marais, these are boutique and upscale meeting hotels in prime locations throughout the city. For more information, visit http://www.neworleanshotelcollection.com. Reservations can be made by calling Peter at (504) 200-3140.