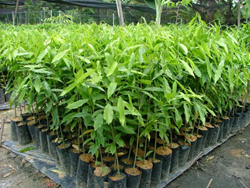 Singapore (PRWEB) May 14, 2014
Asia Plantation Capital is already established as a leading global operator of sustainably managed forestry and agricultural plantations, successfully operating Agarwood plantations in Sri Lanka, Thailand and more recently in China.
Barry Rawlinson, CEO for Southeast Asia, states that, "Expansion of the APC Group and the diversification of the tree genera Aquilaria and Gyrinops naturally led us to Malaysia where there is a rich history of Agarwood, also known locally as Gaharu". He continues, "we are presently looking for parcels of land that meet all of our requirements. At the same time we are looking to recruit local labour with Agarwood experience as involving the local community and creating rural agro-forestry jobs is an essential part of our sustainability strategy."
Asia Plantation Capital has a unique approach, which involves planting, managing and harvesting Agarwood, as well as researching and developing value added products and specialist applications. Asia Plantation Capital is the exclusive supplier of Oud oil to Fragrance Du Bois, as well as other international brands and fragrance companies. In association with Fragrance Du Bois, they have developed a unique fragrance brand using the Oud from their own trees and June 2014 will see Fragrance Du Bois open their first retail outlet in Malaysia with exquisite premises in Starhill Gallery, Kuala Lumpur.
"We are looking forward to our expansion in Malaysia. It is an obvious stage in our development and one where we can share our experience, vision and objectives for the future of agro-forestry and sustainable plantation investments. I think it is fair to say that these activities clearly demonstrate our commitment to help enhance Malaysia's reputation as a key producer of high grade quality Oud oil," concluded Barry Rawlinson.