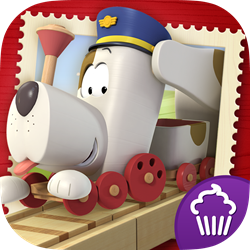 "We are very excited to offer kids a fun way to get more involved with the brand by actually creating on their own."
New York, NY (PRWEB) May 15, 2014
Cupcake Digital, Inc. and Zodiak Kids announce the release of the new Tickety Toc: Card Maker Time! app, the second interactive app experience based on the hit preschool series Tickety Toc. With this new app, little fans of the show can create and send Tick Tocktastic "postcard-style" messages to family and friends. The app is available today on the App Store, Amazon Appstore, Google Play and for NOOK, Nabi and Tabeo devices for 99 cents for a limited time and will be at $2.99 full price.
Tickety Toc: Card Maker Time! is the result of an ongoing collaboration between the two companies. "Expanding on the success of last year's Tickety Toc Bubble Time storybook app, we are very excited to offer kids a fun way to get more involved with the brand by actually creating on their own," said Amory Millard, Cupcake Digital EVP of Brand & Business Development.
Children can easily make their own greeting cards when they choose from 30 postcard designs within three different themes featuring the memorable characters from the series, including Tommy & Tallulah, Pufferty, Hoparoo and more. Then, they can personalize their design and by choosing from over 60 stickers and stamps, coloring tools, including spray paint, chalk, crayons and glitter. Kids can have fun sending messages to their loved ones for birthdays, holidays, or just because.
###
About Tickety Toc
Seen daily on Nick Jr. in the US and on Disney Jr. in Canada, Tickety Toc follows the everyday adventures of 6-year-old twins, Tommy and Tallulah, as they work to "chime the time" and keep everything running smoothly in Tickety Town. Traveling through the special Tickety Toc clock, where Tommy and Tallulah live, audiences enter a fantastical world of eclectic characters and tag along on exciting escapades filled with slapstick surprises. Tommy and Tallulah's strong "can do" spirit often produces an unanticipated outcome, but their individual approach to sticky situations and joint resourcefulness always shine through and save the day! Through the twins' madcap adventures, Tickety Toc explores teamwork, social responsibility and problem solving – important concepts for preschoolers as they learn and grow.
About Cupcake Digital
Founded in 2012, Cupcake Digital, Inc. gives kids the opportunity to interact with the characters they love by transforming children's entertainment properties into award-winning apps. The Company's apps are consistently top-ranked on the Apple App Store, Amazon Appstore for Android, Google Play and the Barnes & Noble NOOK Store. Cupcake's licensed IP portfolio includes Wow! Wow! Wubbzy!, Jim Henson's Fraggle Rock, Strawberry Shortcake, VeggieTales, Yo Gabba Gabba!, Animal Planet, The Smurfs, Sid the Science Kid, Barney, Mike the Knight, Cloudy with a Chance of Meatballs, Puss In Boots, How To Train Your Dragon, Madagascar, Shrek, and Kung Fu Panda.
For more information about Cupcake Digital Inc., please visit http://www.cupcakedigital.com.
About Zodiak Kids
Zodiak Kids is the global independent leader in kids entertainment, combining Zodiak Media's dedicated kids production companies, consumer products and sales division.
Zodiak Kids encompasses prominent production companies Marathon Media and Tele Images Productions (France) and The Foundation (UK). Sales for Zodiak kids are handled by a dedicated team within Zodiak Rights, one of the leading international distributors in the industry. All aspects of licensing are handled by a dedicated division with highly experienced teams based in London and Paris (Zodiak Kids CP London and Zodiak Kids CP Paris).
Zodiak Kids boasts one of the largest, high-quality kids catalogues in the world, which includes Totally Spies!, the international hit animation series; Tickety Toc, the Nick Jr. worldwide animated series; Waybuloo, the CBeebies pre-school hit; Redakai, sold to 160 countries over the world; Mister Maker, the ultimate arts and craft show; Street Football, one of the top rated animated shows in France and Italy; The Ranch, a huge hit on TF1 and Super! Italy; and the newly launched Lolirock, the brand new girls series bursting with magic, mystery and music; Extreme Football, the full CGI series packed with spectacular challenges; and Zack & Quack, the new pre-school show which follows the adventures of a boy and his duck as they journey through a pop-up book.
NOTE TO MEDIA: Screen grabs, video clips, and promotion codes available upon request.