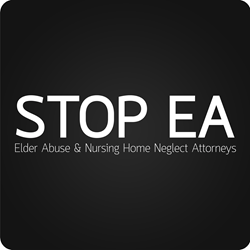 The evidence is there. Some nursing homes and assisted living facilities are understaffed in order to save money, while their patients suffer as a result
Sacramento, CA (PRWEB) May 13, 2014
The Stop EA (Elder Abuse) campaign is launching a new campaign to announce the findings of an in-depth review of publicly available data linking nursing home and assisted living facility understaffing with elder abuse.
Multiple studies have shown that understaffing at nursing homes can be a direct link to facility related elder abuse. Some nursing homes and assisted living facilities admit patients who need more acute care than the average facilities statewide. Medicare pays facilities much more for patients who need acute care based on its assumption that facilities will dedicate more nursing time to care for these sicker, more complicated patients. Most of the facilities, however, do not increase their staffing to cover these patients.
"The evidence is there. Some nursing homes and assisted living facilities are understaffed in order to save money, while their patients suffer as a result," said STOP EA attorney, Jay Renneisen.
Many studies have conclusively established that understaffing results in patient neglect. Studies published in the Health Services Research Journal of the Health Research & Educational Trust cite specific examples of how understaffing is directly tied to poor levels of care.
One study titled "Relationship of Nursing Home Staffing to Quality of Care" compared nursing homes that report different staffing statistics on quality of care. The principal findings were that homes that had higher rates of staffing performed "significantly better on 13 of 16 care processes implemented" by nurse aides compared to homes with lower staffing rates.
Another study titled "Nurse Staffing and Deficiencies in the Largest For‐Profit Nursing Home Chains and Chains Owned by Private Equity Companies," compared deficiencies in the top 10 largest for-profit nursing home chains in the U.S. with other ownership groups before and after private equity companies purchased them. The results of the study confirmed that these top 10 chains had lower staffing and received 36 percent higher deficiencies and 41 percent higher serious deficiencies than government facilities. The other chains that were purchased by private equity companies also saw an increase in "serious deficiencies."
"If you have a loved one in an assisted living facility or nursing home, there are a few things you should ask yourself when you walk into the facility," Renneisen said. "Were you unable to find any staff members? Or did the staff person that you did find not know about your loved one's care needs? These are signs of understaffing."
The Stop EA campaign, a California law firm and collection of elder advocates founded by three experienced elder abuse attorneys, seeks justice for families whose loved one's have been harmed in these facilities and to make sure that the same thing does not happen to the next vulnerable, unsuspecting family.
Those who are concerned about the quality of care their loved ones may be receiving in one of these facilities can obtain a free, private case evaluation from Stop EA by calling 1-866-864-1800.
For more information on the campaign, identifying symptoms of neglect and informational videos, visit stopea.org.