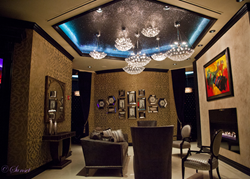 Houston, TX (PRWEB) May 14, 2014
The Marque, Houston's ultra-exclusive business and social club, is pleased to announce the appointment of Kimberly Joy Lipson as Director of Membership.
Ms. Lipson brings fifteen years of high-end hospitality sales experience, leading successful efforts on behalf of such prestigious brands as Marriott and Ritz Carlton. In her new role at The Marque, Ms. Lipson will serve as an ambassador for the club within the local community, and will work to bring new members to the club.
"The Marque is a unique private club that provides members an exclusive atmosphere away from the typical restaurant and nightclub scene - it's a friendly environment with a lot of camaraderie, personalized service, world-class cuisine, fantastic cocktails and great cigars," said Ms. Lipson. "The club has an amazing base of members and I'm very excited to help the club continue to enhance its membership."
Ms. Lipson is a Summa Cum Laude graduate from the Eller School of Business at the University of Arizona, and comes to The Marque as a result of their new partnership with Pipeline Marketing Group, a private club marketing strategy firm based in Los Angeles.
The Marque is one of the new wave of ultra-exclusive private clubs attracting a who's who of Houston's business and cultural elite. The club is located in the City Centre and is the only establishment in Houston where you can enjoy a cigar and a fine scotch within the walls of the building. The Marque is rumored to have several high-profile members and serves as a convenient venue for business meetings, and social occasions. The club also hosts several of the Houston area's premier parties and events, including Shaquille O'Neal's All-Star Takeover during the NBA All-Star Weekend last February.
For more information regarding membership at the Marque, Ms. Lipson can be reached at (832) 726-1930 or via email at joy(at)marquehouston(dot)com.